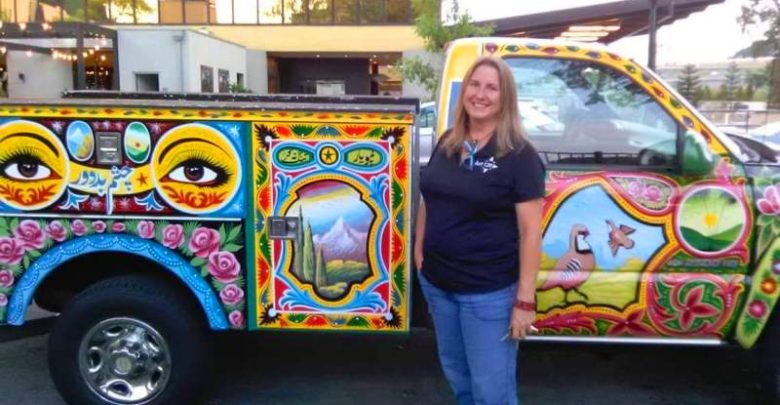 (پیرس(زاہد مصطفی اعوان سےٹرک آرٹ دنیا بھر میں پاکستان کا خوبصورت تعارف ہے۔ آرٹسٹ کے ہاتھوں کا کمال اور شوخ رنگوں کا استعمال جہاں پھول پتی کا منفرد آرٹ تشکیل دینا وہیں اس ٹرک آرٹ میں پاکستان کے سجتے اور سنورتے رنگوں کی جھلک اور وطن سے آنے والی معطر کردینے والی خوشبو کی مہک بھی ہے۔ آرٹسٹ کی مہارت کا کمال یہ ہے کہ پاک دھرتی کے خوبصورت رنگ آنکھوں کے راستے روح تک اتر جاتے ہیں۔ وطن عزیز کے سبھی رنگ من میں اتر جانے والے اور دلوں کو موح لینے والے ہیں مگر دیار غیر میں آن کی مٹھاس اور کشش کئی گنا زیادہ بڑھ جاتی ہے۔ جس کی تازہ مثال بارسلونا کے سکولوں میں ٹرک آرٹ کے دلکش رنگ ہیں جو ناصرف مقامی ہسپانوی لوگوں کی توجہ کا محور بنی ہوئی ہے بلکہ محب وطن پاکستانیوں کو وطن عزیز کی خوبصورت یادوں میں گم ہو جانے پر مجبور کر رہے ہیں۔ ٹرک آرٹ، آرٹ کی دنیا بھر میں پاکستان کا خوبصورت تعارف ہے۔ ان دنوں ٹرک آرٹ کی ٹیم یورپ کے دورہ کے دوران سپین کے شہر بارسلونا کے دورہ پر ہے۔ بارسلونا کے ایک سکول میں کاسہ ایشیا اور سفارت خانہ پاکستان کے اشتراک سے ایک تقریب کا اہتمام ہوا۔ جس میں سفیر پاکستان خیام اکبر۔ قونصل جنرل بارسلونا آف پاکستان عمران علی چوہدری۔ ڈائریکٹر کاسہ ایشیا داوید لبارو۔ لولہ پیس۔ دوست ملک ترکی کے قونصل جنرل۔ پروگرام آرگنائزر گھائل پاتین اور کئی اہم شخصیات نے بھی شرکت کی۔ جنہیں پھول پتی کی ٹیم کے ہاتھوں سے تیار ہوئے بکس میں آنے والے مہمانوں کو خصوصی تحائف پیش کئے گئ
Spain; Pakistani truck art team were in Barcelona and on tour of Europe, The Pakistani truck art is very famous and much loved abroad.
Cargo trucks painted in bright colors, with an extremely intricate level of detail, are a common sight on the the highways of Pakistan. The paintings — often coupled with lines of poetry, religious calligraphy or common phrases — represent the truck driver's identity and regional background. The images on the trucks embody a wide range of themes, including landscapes, celebrities, beautiful women, mythical creatures, religious imagery and national heroes.