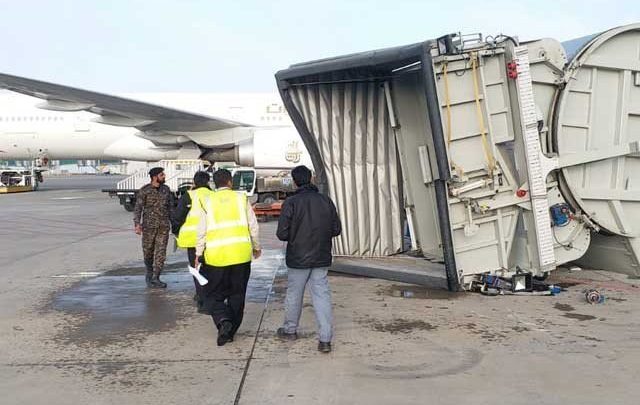 اسلام آباد انٹرنیشنل ایئرپورٹ پر دوحادثات میں چارملازمین زخمی ہوگئے۔منگل کی صبح مسافروں کو جہاز میں منتقل کرنے والی راہداری گرگئی خوش قسمتی سے اس وقت تک بحرین جانیوالی پرواز کے تمام مسافر طیارے میں سوار ہوچکے تھے۔ایو بریج کو آپریٹ کرنے والا آپریٹر محمد مدثر پل پیچھے ہٹا رہا تھا کہ اس دوران پل گرگیا۔ برج اور شیشے ٹوٹنے سے سول ایوی ایشن کا آپریٹر زخمی ہوگیا۔ بعدازاں ایئرپورٹ کے لیول ون پر بین الاقوامی آمد میں جیری دناتانامی نجی کمپنی کے دفتر کی سیلنگ اچانک گرنے سے وہاں موجود تین ملازمین خواجہ فراز، انیس اور پرویززخمی ہوگئے ۔
Rawalpindi; At least one person was injured when a jet bridge at the newly constructed Islamabad International Airport (IIA) collapsed on Tuesday.
The bridge had been connected to Gulf Airline flight GF771 and was being removed by an operator. The flight had completed boarding and was ready to depart for Bahrain at the time of the incident.
Operator Muhammad Mudassir was moving the bridge back to its position when it collapsed and glass splinters injured the operator. The flight departed safely for its destination after authorities arrived and dealt with the incident. The CAA chief took strict notice of the situation and also issued orders for an inquiry into the matter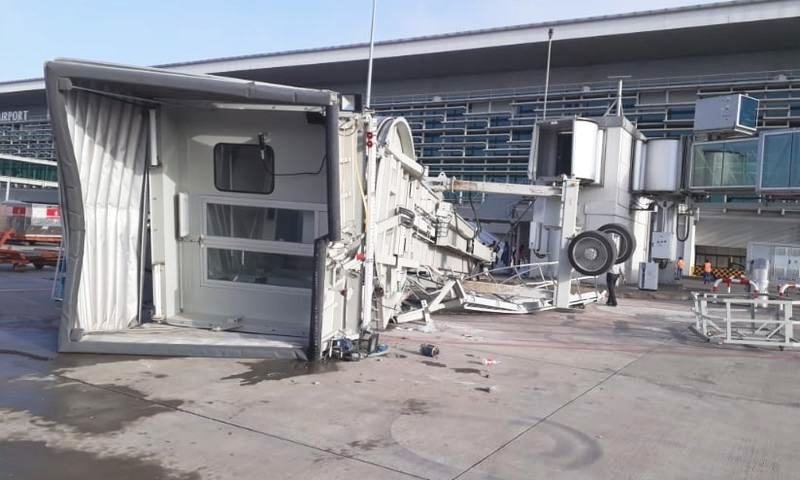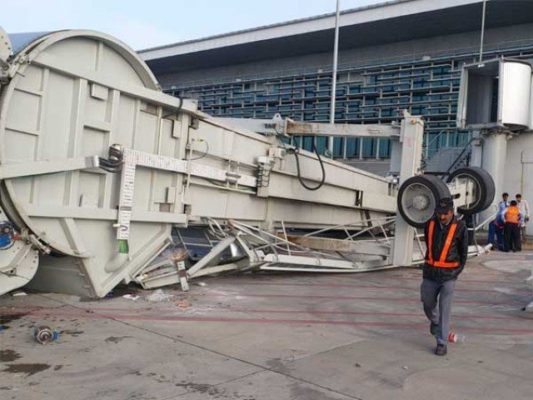 قتل کے دو مختلف مقدمات میں مطلوب دو ملزمان گرفتارکر لئے گئے
Two arrested for murders committed in Chak bale khan region 
قتل کے دو مختلف مقدمات میں مطلوب دو ملزمان گرفتارکر لئے گئے پولیس چوکی چک بیلی خان کے سب انسپکٹر امیر خان اور ا ایس آئی محمد اختر اپنی ٹیم کہ ہمراہ گشت کر رہے تھے کہ رنوترہ چوک میں قتل کے مقدمہ میں ملو ث ملزم بلال کو شناخت کر کے گرفتار کر لیا ملزم بلال عید الاضحی کے دن موضع ڈھوک گجری میں قتل ہونے والے شخص کے مقدمہ میں ملوث تھا علاوہ ازیں چک بیلی خان میں قتل ہونے والے نوید کے مقدمہ کے ملزم فیصل زمان کو ضمانت منسوخ ہونے پہ پولیس نے عدالت سے گرفتار کر لیا