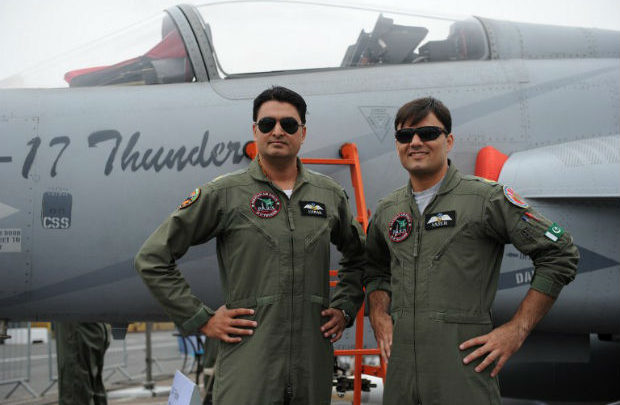 پیرس;  پاکستان کا معروف طیارہ جے ایف 17تھنڈر پیرس ایئر شو میں شرکت کیلئے فرانس پہنچ گیا جے ایف 17تھنڈر کا پیرس کے نواحی علاقے لا برجے پہنچنے پر شاندار استقبال کیا گیا۔پیرس ایئر شو 17 جون سے 23 جون تک جاری رہے گا، جس میں دنیا بھر سے جنگی جہازوں اور دفاعی سازو سامان کی نمائش کی جائیگی۔
Paris; Pakistan's spectacular JF-17 Thunder showcased its cutting edge capabilities in the 51st Paris Air Show at French city Le Bourget Parc des on Monday and allowed potential customers to assess its immense potential.
According to the Flight Global, Pakistan has secured its first confirmed export deal on JF-17 Thunder fighter jets.
"A contract has been signed with an Asian country," says Air Commodore Khalid Mahmood, the Pakistan air force officer who leads sales and marketing efforts for the type.
Citing client sensitivities, he declined to specify the customer and the number of aircraft it will obtain. Deliveries will start in 2017.
Pakistan Air Force has taken three JF-17 Thunder jets to the air show. One aircraft would perform flying display on all the show days, while another two jets would be put on static display showing the latest weapons.
Pakistani JF-17 aircraft has already participated in various air shows of the world including Farnborough Air Show in UK, Zhuhai Air Show in China, Turkish Air Show at Turkey and Dubai Air Show in UAE.