DailyNews
Birmingham; Councillor Mohammad Azim elected Lord Mayor Birmingham city council
کونسلر محمد عظیم نے برمنگھم سٹی کونسل کے چوتھے مسلم برٹش پاکستانی لارڈ میئر کی حیثیت سیاحلف اٹھالیا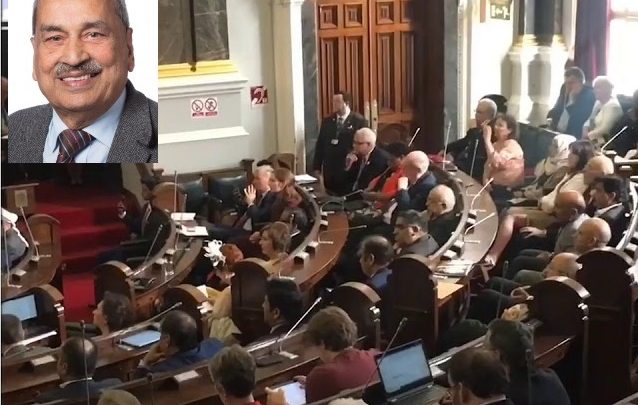 برمنگھم ;کونسلر محمد عظیم نے برمنگھم سٹی کونسل کے 157اور چوتھے مسلمان برٹش پاکستانی و کشمیری لارڈ میئر کی حیثیت سے اپنے عہدے کا حلف لیا۔ لارڈ میئر برمنگھم کونسلر محمد عظیم کا تعلق پاکستان آزاد کشمیر کی تحصیل ڈڈیال سے ہے۔ ابتدائی دور میں جب پاکستان سمیت دنیا بھر سے لوگ حصول روزگار کے سلسلہ میں برطانیہ آرہے تھے۔ اس عرصہ میں لارڈ میئر کونسلر محمد عظیم بھی برطانیہ آئے۔ سخت محنت مشقت کی، فونڈری میں کام کیا ساتھ ساتھ کمیونٹی کی خدمت کا سلسلہ جاری رکھا۔ 1992ء میں لیبرپارٹی جوائن کی 2004ء میں پہلی بار2012ء میں کونسلر منتخب ہوئے۔ تقریب حلف برداری فل کونسل میٹنگ میں کی گئی، کونسلر وسیم ظفر کی قرارداد پر سابق لارڈ میئر کونسلر ایوان ماسکیٹو نے فل کونسل ہائوس سے ووٹنگ کرائی۔ اپوزیشن لیڈر کونسلر رابٹ ایلڈن سمیت فل ہائوس نے متفہ طور پر آئندہ برس مئی2020ء تک لارڈ میئر منتخب کردیا۔
Birmingham; Councillor Mohammad Azim of Dadyal, Azad Kashmir has been elected Mayor of Lord Mayor Birmingham city council. Family and friends along with villagers in Dadyal have congratulated Mohammad Azim.
The Lord Mayor, Mohammed Azim was born in Dadyal,  His early life was spent learning, removing barriers, helping the community and trying to improve circumstances for them.
Whilst in Pakistan the Lord Mayor met and married his wife. They had four children; and, coming from a humble background, they are especially proud of their children's' achievements.