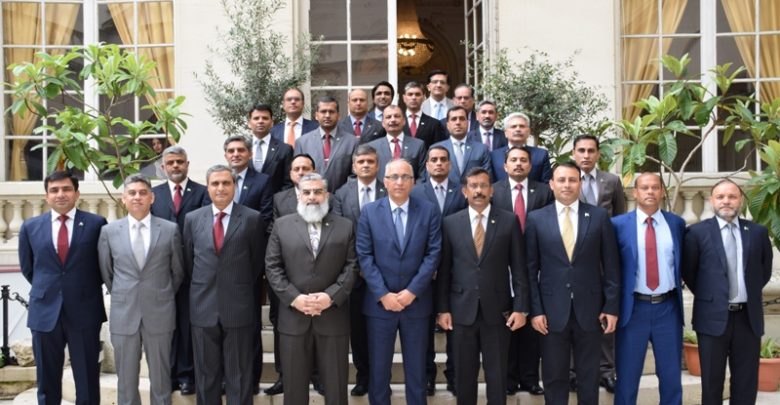 پیرس۔زاہد مصطفی اعوان۔سفارت خانہ پاکستان برائے فرانس میں گذشتہ روز پاکستان کی قومی دفاعی یونیورسٹی (NDU) کے 22 رکنی وفد نے سفیر پاکستان جناب معین الحق سے ملاقات کی۔ اس 22 رکنی وفد میں مسلح افواج کے علاوہ سول سروس کے سینئر افسران اور اتحادی ممالک جن میں بنگلہ دیش، ایران اور نیپال کی افواج کے افسران بھی شامل ہیں۔
وفد کو پاکستان و فرانس کے تاریخی دوطرفہ تعلقات کے علاوہ موجودہ دور کے باہمی تعلقات پر ہونے والی پیش رفت کے بارے میں بھی آگاہ کیا گیا۔ سفیر پاکستان نے بتایا کہ پاکستان اور فرانس کے سیاسی، اقتصادی، دفاعی، تعلیمی اور ثقافتی شعبوں میں تعلقات مضبوط بنیادوں پر استوار ہیں۔
این ڈی یو کے وفد کا پیرس کا یہ دورہ ان کے غیر ملکی مطالعاتی دوروں کا حصہ ہے۔ وفد پیرس میں اپنے ایک ہفتہ قیام کے دوران دفاعی شعبوں میں کام کرنے والی مشہور فرانسیسی کمپنیوں سمیت مختلف دفاعی و سول اداروں کا بھی دورہ کرے گا۔
Paris; A 22-member delegation of National Defence University of Pakistan, comprising senior officers from Pakistan's Armed Forces and Civil Service called on Ambassador of Pakistan to France Moin ul Haque at the Embassy in Paris.
On the occasion, the delegation was given a detailed briefing about the history of Pakistan-France bilateral relations and as well as current developments.The NDU delegation is visiting Paris as part of their Foreign Study Tour.
During their week-long stay in Paris, the delegation will visit various French defence and civil institutions including renowned French companies working in the field of defence.