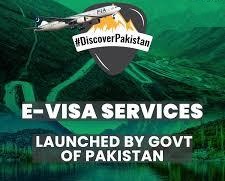 پاکستان وزیراعظم عمران خان کی جانب سے گزشتہ روز ای ویز انیشی ایٹیو کے اجرا کا برٹش پاکستانی کمیونٹی اور برطانوی نیشنلز نے خیرمقدم کیا ہے۔ برٹش پاکستانی برنس مین انٹرپرینویئرز کمیونٹی ارکان اور میڈیا پرسنز نے اسلام آباد میں ہونے والی اس ای ویزا اجرا تقریب کی لائیو ٹیلی کاسٹ کو پاکستان ہائی کمیشن لندن میں دیکھا۔ انہوں نے ویزا سسٹم کو سادہ اور آسان بنانے کیلئے عمران خان کے وژن کو سراہا اور کہا کہ انہوں نے پاکستان کو دنیا کیلئے کھول دیا ہے۔ہائی کمیشن میں موجود شرکا نے وزیراعظم پاکستان، وزیر خارجہ اور وزیرمملکت برائے داخلہ کے خیالات کا خیر مقدم کیا۔پاکستانی ہائی کمشنرمحمد نفیس زکریا نے خطاب کرتے ہوئے کہا کہ حکومت کے اس اینشی ایٹو کی تیزی سے کامیابی میں برٹش پاکستانی ڈیاسپورا اہم کردار ادا کر سکتا ہے، وہ سیاحت اوران سیاحتی ریزورٹ ڈیولپمنٹ پروجیکٹس میں سرمایہ کاری کرے جن کی نشاندہی پاکستانی حکومت نے کی ہے۔ انہوں نے کہا کہ نئے ویزا سسٹم نے ان کیلئے جو بزنس مواقع کی آسانی فراہم کی ہے، وہ اس سے فائدہ اٹھائیں۔ انہوں نے کہا کہ ٹورازم سیکٹر میں سرمایہ کاری کے خواہاں افراد اور ای ویزا سسٹم کو بہتر انداز میں سمجھنے کیلئے وہ ہر وقت مدد کیلئے تیار ہیں۔ برطانوی پارلیمنٹ کے ارکان نے بھی
وزیراعظم کے اس اقدام اور لوگوں کو انگیج کرنے کیلئے ہائی کمیشن کی کوششوں کو سراہا۔
London; Prime Minister Imran Khan on Thursday launched the country's innovative online visa system, making it easy for the citizens of 175 countries to get the visa from their home in a bid to boost tourism and business.
"This is a first step and reflective of the confidence of the country as it opens its doors for investors, entrepreneurs, tourists and students; inviting them to come to visit Pakistan," he told a gathering comprising a large number of diplomats here at the auditorium of the Prime Minister's Office.
The prime minister earlier launched a portal with the press of a button that would allow travellers to submit their details, documents and make online payment to get the visa in seven to ten days and said the new system had done away with the earlier mind-set which discouraged the foreigners to visit Pakistan.