DailyNews
London; Record extreme cold weather with heavy snowfall in UK
برطانیہ میں گزشتہ روز موسم سرما کی سرد ترین رات ریکارڈ کی گئی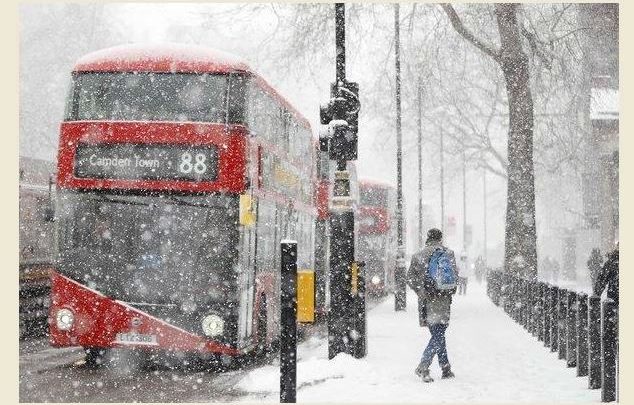 برطانیہ میں گزشتہ روز موسم سرما کی سرد ترین رات ریکارڈ کی گئی ،جمعرات کی صبح سکاٹ لینڈ میں درجہ حرارت منفی13 درجہ سینٹی گریڈ تک ہوگیا،ملک میں سب سے زیادہ سردی لوچ گلاسکارنوچ کے بالائی علاقے میں ریکارڈ کی گئی، محکمہ موسمیات نے لندن سمیت ویلز ،جنوب مغربی اور جنوب مشرقی انگلینڈ کیلئے اپنی پیش گوئی تبدیل کرتے ہوئے توقع ظاہر کی ہے کہ ملک کے مختلف علاقوں میں 3 سے7 سینٹی میٹر تک برف گرے گی۔جس کی وجہ سے شام کو بھیڑ کے اوقات میں آمدورفت میں خلل پڑنے کاامکان ہے۔ جمعہ کو بھی رات بھر برفباری ہونے کی پیشگوئی کی گئی ہے ،پیشگوئی میں کہاگیاہے کہ ویلز کے بعض علاقوں میں 15سینٹی میٹر تک برفباری گر سکتی ہے جبکہ جنوبی انگلینڈ میں علاقوں میں 3 سے7 سینٹی میٹر تک برف گرے گی،جنوبی مشرقی ٹرینز نے بتایا ہے کہ برفباری کی وجہ سے ہونے والے اثرات کو کم از کم کرنے کیلئے 21 ٹرینیں ملتوی کرنا پڑیں،جمعہ سے ٹرینیں موسم سرما کے شیڈول کے مطابق چلائی جائیں گی تاہم مسافروں سے کہاگیاہے کہ بعض

ٹرینوں میں تبدیلی کی وجہ سے بھیڑ کے اوقات میں سروسز معمول کے اوقات کے مقابلے میں زیادہ مصروف رہ سکتی ہے ۔محکمہ موسمیات کے مطابق انگلینڈ، ویلز اور شمالی آئر لینڈ میں بھی موسم سرما کا کم ترین درجہ حرارت ریکارڈ کیاگیا ،ریکارڈ کے مطابق ریڈیس ڈیل ، نارتھمبرلینڈ میں درجہ حرارت منفی 10.4 سینٹی گریڈ ،سینی برج اورپوویز میں درجہ حرارت منفی9.3 درجہ اور میکی لیکن ، کائونٹی لندن ڈیری میں درجہ حرارت منفی8.5 درجہ سینٹی گریڈ تک گر گیا۔بی بی سی کے مطابق شمال مشرقی انگلینڈ اورشمالی سکاٹ لینڈ میں برفباری ہونے کی توقع ہے اور برفباری اور سڑکوں پر جمی برف کی وجہ سے سفر میں دشواریاں پیش آئیں گی، شدید سردی اور برفباری کی وجہ سے برطانیہ کے بیشتر علاقوں میں سیکڑوں سکول بند کردئے گئے ۔ویلز میں ایک کوہ پیما کو برفانی طوفان کے سبب ٹانگ ٹوٹ جانے کے سبب ہیلی کاپٹر کے ذریعے ہسپتال پہنچایا گیا،جمعرات کو صبح مانچسٹر اورلیور پول کے ایئرپورٹس بند کردئے گئے تھے لیکن بعد میں دن کو کھول دیئے گئے ،ڈیوون اورکارن ویل پولیس کاکہنا ہے بدھ کی صبح صرف ایک گھنٹے میں گاڑیوں کے ٹکرانے اور دیگر قسم کے کم وبیش20 حادثات ہوئے ،زیادہ تر حادثات سکاٹ لینڈ میں ہوئے برف صاف کرنے والی ایک گاڑی کےڈرائیور کوگاڑی الٹ جانے کے ہسپتال منتقل کیاگیا۔
London; Temperatures in the UK have plummeted to their lowest level in seven years, with the mercury dipping to -14.4°C in Scotland this morning.
The village of Braemar in Aberdeenshire recorded the coldest temperature of the winter so far – and the lowest since 2012 when it reached -15.6C at Holbeach, Lincolnshire.
Severe cold weather, icy conditions and heavy snowfall are expected to cause disruption across the UK today, with amber warnings in place for Wales and southern England.
The Met Office warns that snow could lead to significant travel delays and power cuts, and leave rural communities cut off.
آزاد کشمیر کے سنیئر منسٹر چوہدری طارق فاروق کی سلاؤ یوکے آمد
Senior Minister Azad Kashmir Ch Tariq Farooq given reception in Slough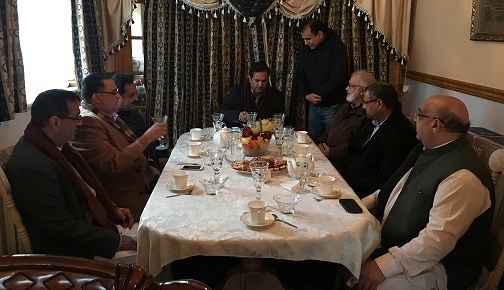 آزاد کشمیر کے سنیئر منسٹر چوہدری طارق فاروق کی سلاؤ یوکے آمد۔ آزاد حکومت ریاست جموں و کشمیر کے سنیئر وزیر عزت مآب جناب چوہدری طارق فاروق جو ان دنوں برطانیہ کے دورہ پر آئے ہوئے ہیں۔ انہوں نے آزاد کشمیر مسلم لیگ ن برطانیہ ساؤتھ زون کے صدر راجہ محمد شبیر خان ناڑوی کی رہائشگاہ ناڑوی ہاؤس سلاؤ آ کر پارٹی کارکنان، کشمیری کمیونٹی احباب اور صحافیوں سے ملاقات کی۔ اس موقع پر میزبان راجہ شبیر خان ناڑوی، سنیئر راہنماء راجہ محمد ایوب خان، راجہ شوکت علی ( سلم کانفرنس ) اور راجہ ساجد خان کے علاوہ مرکزی نائب صدر AK MLN UK چوہدری محمد جہانگیر و دیگر موجود تھے۔ چوہدری طارق فاروق سنیئر وزیر آزاد کشمیر کا سلاؤ آمد پر پرتپاک استقبال کیا گیا۔ اس موقع پر پھولوں کا گلدستہ پیش کیا گیا۔ مہمان خصوصی نے چائے کی میز پر بیٹھ کر مسئلہ کشمیر سے متعلق سیر حاصل گفتگو کی جبکہ عالمی برادری کی توجہ مقبوضہ کشمیر میں بھارتی فوجوں کے ہاتھوں سنگین انسانی حقوق کی پامالی کی طرف مرکوز کی۔ انہوں نے کہا کہ جب تک کشمیر کا مسئلہ حل نہیں ہو جاتا۔ تب تک خطۂ جنوبی ایشیاء میں مستقل اور پائیدار امن قائم نہیں ہو سکتا۔ انہوں نے کہا کہ برطانیہ میں مقیم کشمیری کمیونٹی وطن کی سفیر ہے اور باشعور بھی ہے۔ جنہوں نے عالمی برادری کو مسئلہ کشمیر کی حقیقت سے آگاہ کیا۔ اب دنیا کشمیر ایشوء کو سمجھنے لگی ہے۔ سنیئر وزیر چوہدری طارق فاروق نے کہا کہ دنیا کی کوئی طاقت کشمیریوں کو زیادہ دیر تک اپنا غلام بنا کر نہیں رکھ سکتی۔ آزادی کشمیریوں کا مقدر ہے اور اس کے لئے انہوں نے ایک لاکھ جانوں کی قربانی دی ہے۔ جو رائیگاں نہیں جائے گی۔ انہوں نے مزید کہا کہ آزاد کشمیر کی ن لیگی حکومت عوام کو بہتر سہولیات دینے کے لئے کمر بستہ ہے۔ آزاد کشمیر میں صھت و تعلیم کے علاوہ سیاھت کو بھی فروغ دے رہے ہیں تاکہ معیشت بہتر ہو اور روزگار اور خوشحالی آئے۔