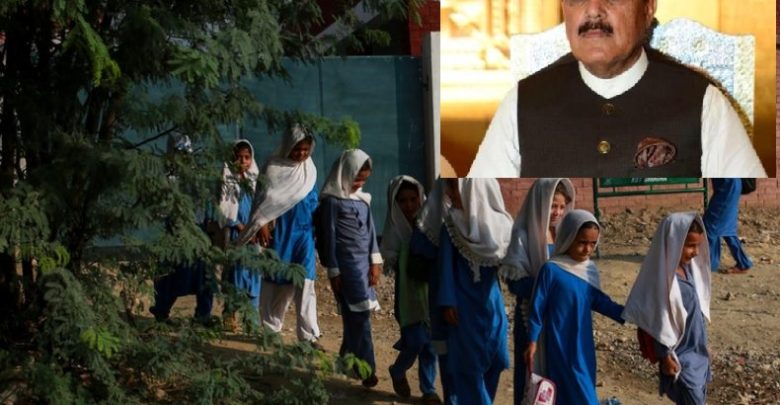 افسر شاہی کا انوکھا فیصلہ ایک کان چھوڑ کر دوسرا پکڑ لو، کوٹ سیداں میں ڈربہ نما گورنمنٹ پرائمری سکول کا مسئلہ حل کرنے کی بجائے ٹیچرز کے تبادلہ، 70طلبہ کو دوسرے سکولوں میں شفٹ کرنے کی تجویز ، سکول میں زیر تعلیم بچوں کے والدین نے اسے احمقانہ فیصلہ قرار دیتے ہوئے ماننے سے انکار کر دیا سکول کیلئے نئی عمارت بنانے کا مطالبہ تفصیلات کے مطابق شہری آبادی کوٹ سیداں میں واقع سکول کی دگرگوں حالت بارے خبروں کی اشاعت پر نوٹس لیتے ہوئے ایم پی اے جاوید کوثر نے تین مرلہ زمین پر واقع اس سکول کا دورہ کیا جہاں اڑھائی سو سے زائد بچے زیر تعلیم ہیں جس پر انہوں نے محکمہ تعلم کے اعلیٰ افسرا ن سے رپورٹ طلب کی جس کے بعد اسسٹنٹ کمشنر گوجرخان اور مقامی ایجوکیشن آفیسرز نے سکول کا دورہ کیا ڈسٹرکٹ ایجوکیشن اتھارٹی کے سربراہ افضل اقبال ساہی نے بھی رپورٹ طلب کی جس پر محکمہ تعلیم کے مقامی افسران نے اپنی جان چھڑانے کیلئے سب اچھا کی رپورٹ دے کر مبینہ طور پر تجاویز پیش کی کہ اس سکول کے اساتذہ کا تبادلہ ، ستر طالب علموں کو یہاں سے دوسرے سکولوں میں شفٹ کرنے اور چھت پر بیٹھنے والے نرسری کے طلبہ کو نیچے صحن میں اور چوتھی جماعت کے طلبہ کو چھت پر منتقل کر دیا جائے بچوں کے والدین نے کہا ہے کہ یہ مسئلہ کا حل نہیں ہے وہ اپنے بچوں کو دور دراز کے سکولوں میں شفٹ نہیں کریں گے حکومت فوری طورپر مذکورہ سکول کی نئی عمارت تعمیر کرے انہوں نے رکن صوبائی اسمبلی چوہدری جاوید کوثر سے مطالبہ کیا ہے کہ وہ محکمہ تعلیم گوجرخان کے افسران کی اس انوکھی تجویز کی بازپرس کریں اور مسئلہ حل کروانے میں اپنا کردا رادا کریں
Gujar Khan; The Parents at government primary school in Kot Syedan were told that 70 students would be transferred to another school in order to solve housing problems for the students.
The parents have bitterly deplored the decision and have demanded that local MPA Ch Javed Kausar takes action and stops the transfer and instead shifting the students facilities should be given to students so they can stay at their local school.
The over crowding is due to less rooms at school, currently students are made to sit on top of school roof for studying, the parents are demanding extra rooms should be constructed and shifting students to nearby village school is not the answer.
گوجرخان میں بھی کلین اینڈ گرین پنجاب مہم شروع
Clean and green campaign starts in Gujar Khan
وزیر اعظم عمران خان کی ہدایت پر ملکی سطح پر گرین اینڈ کلین پاکستان مہم کے آغاز کے موقع پر گوجرخان میں بھی کلین اینڈ گرین پنجاب مہم شروع کر دی گئی ہے اس سلسلہ میں ایم سی بوائز سکول میں تقریب کا انعقاد کیا گیا جس میں ایم پی اے جاوید کوثر، ایم پی اے ساجد محمود،اسسٹنٹ کمشنر مرضیہ سلیم ،چیئرمین بلدیہ شاہد صراف، ڈی ڈی او رانا جاوید ایم، ایس ڈاکٹر سہیل اور چیف آفیسر بلدیہ نے کونسلروں کے ہمراہ شرکت کی مقررین نے وزیر اعظم کی اس مہم کو قابل ستائش قرار دیتے ہوے اس میں بھرپور حصہ لینے کا اعلان کیا تقریب کے بعد پرنسپل قاضی وقار نے مہمان خصوصی کے ہمراہ سکول میں پودے لگاے جبکہ مہم کے بارے عوامی شعور بیدار کرنے اور آگاہی کے لئے سول سوسائٹی اور سکول بچوں کے ہمراہ واک کا انعقاد کیا گیا جس میں بڑی تعداد میں شہریوں نے شرکت کی
گورنمنٹ کالج برائے خواتین میں اساتذہ کی کمی کا مسئلہ تاحال حل نہ ہوسکا
Shortage of staff issue still not solved at women's college in Gujar Khan 
گورنمنٹ کالج برائے خواتین میں اساتذہ کی کمی کا مسئلہ تاحال حل نہ ہوسکا عرصہ دراز سے کالج میں اساتذہ کی کمی طالبات کا تعلیمی مستقبل داؤ پر لگ گیا اڑھائی ہزار سے زائد طالبات کیلئے صرف سولہ لیکچرار جو کہ اتنی بڑی تعداد کیلئے کم ہے والدین اس صورتحال سے پریشان ہیں مقامی ایم پی اے چوہدری جاوید کوثر ایڈووکیٹ نے بھی کالج کا وزٹ کر کے اساتذہ کی کمی کو پورا کرنے کا وعدہ کیا لیکن تاحال کوئی پیش رفت نہ ہو سکی تفصیلات کے مطابق گورنمنٹ گرلز ڈگری کالج گوجرخان میں لیکچرارز کی تعداد کم ہونے کے باعث زیر تعلیم طالبات کا تعلیمی حرج ہو رہا ہے جس کے باعث درس وتدریس میں مشکلات کا سامنا ہے کالج میں شہر کے علاوہ دیہی علاقوں سے بھی بڑی تعداد میں طالبات حصول تعلیم کیلئے آتی ہیں لیکن کالج میں اساتذہ کی کمی کالج میں زیر تعلیم طالبات کا مستقبل داؤ پر لگ گیا زیر تعلیم طالبات کے والدین نے بتایا کہ اس صورتحال سے سخت پریشان ہیں موجودہ حکومت نے تعلیم پر خصوصی توجہ دینے کے بلند وبانگ دعوے تو کئے لیکن گرلز کالج میں اساتذہ اورسٹاف کی کمی ہے کس طرح نظام تعلیم میں بہتری آئے گی کالج میں اساتذہ کی کمی کو پورا کرکے طالبات کا تعلیمی حرج ہونے سے بچایا جائے