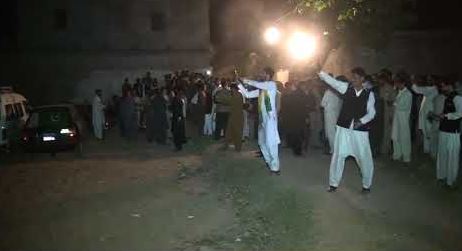 شادی کی تقریب میں اشتہاریوں اور جرائم پیشہ افراد کی موجودگی پر ڈی ایس پی کہوٹہ طاہر سکندر کا چھاپہ۔ پولیس پارٹی پر ملزمان کی فائرنگ۔
کہوٹہ: نمائندہ پوٹھوہار ڈاٹ کام،عمران ضمیر۔۔۔
شادی کی تقریب میں اشتہاریوں اور جرائم پیشہ افراد کی موجودگی پر ڈی ایس پی کہوٹہ طاہر سکندر کا چھاپہ۔ پولیس پارٹی پر ملزمان کی فائرنگ۔ دو کلاشنکوف برآمد کر کے متعد د افراد گرفتار کر لیئے۔ ڈی ایس پی کہوٹہ طاہر سکندر نے اخباری نمائندوں کو بتایا کہ کہوٹہ کے نواحی گاؤں کھڈیوٹ میں شادی کی تقریب میں ہمیں اطلاع ملی کہ کچھ اشتہاری، منشیات فروش اور جرائم پیشہ افراد بھی تقریب میں موجود ہیں۔ جس پر کہوٹہ پولیس کے ایس ایچ او اور بھاری نفری طلب کر کے ناکہ بندی کی گئی اور ریڈ کیا گیا۔ اس دوران پولیس پارٹی پر فائرنگ بھی کی گئی۔ سرچ آپریشن کے دوران ڈی ایس پی کہوٹہ طاہر سکندر نے خود قیادت کرتے ہوئے دشوار گزار پہاڑی علاقہ میں اندر جاکر چھاپہ مارا متعدد افراد کو موقع سے رات کی تاریکی میں گرفتار کیا گیا۔ ڈی ایس پی کہوٹہ طاہر سکندر اور ایس ایچ او کہوٹہ محمد وقار نے کہا کہ ملزمان چاہے کتنے ہی با اثر کیو ں نہ ہو قانون ک گرفت سے بچ نہیں سکتے۔
Kahuta; DSP Kahuta Tahir Sikandar raided a wedding party which had the presence of criminals attending the wedding ceremony.
Accused fired on police party, Two Kalashnikovs were recovered and several people were arrested. DSP Kahuta Tahir Sikandar told reporters that we were informed at the wedding ceremony in Khadyot village on the outskirts of Kahuta that some drug dealers and criminals were also present at the wedding.
The SHO of Kahuta police and a heavy contingent were called and cordoned off and raided. Meanwhile, the police party was also fired upon. During the search operation, DSP Kahuta Tahir Sikandar himself led a raid in a difficult mountainous area and raided the place. Several persons were arrested on the spot in the dark of night. DSP Kahuta Tahir Sikandar and SHO Kahuta Muhammad Waqar said that the accused, no matter how influential, could not escape the clutches of the law.
تحصیل کہوٹہ کی یونین کونسل مٹور کا گاؤں تھوہا خالصہ بنیادی سہولیات سے محروم
Thoha Khalsa, a village of Union Council Mator in Kahuta Tehsil, lacks basic amenities
کہوٹہ: نمائندہ پوٹھوہار ڈاٹ کام،عمران ضمیر۔۔۔
تحصیل کہوٹہ کی یونین کونسل مٹور کا گاؤں تھوہا خالصہ بنیادی سہولیات سے محروم۔ آر ایچ سی مسلم لیگ (ن) کے دور حکومت میں سابق ایم پی اے راجہ محمد علی نے اپ گریڈ کرایا۔ مگر موجودہ دور حکومت نے ہسپتال ڈاکٹروں سٹاف کی سہولیات سے تاحال محروم ہے۔اہلیاج علاقہ سراپا ء احتجاج۔ چار سال سے زائد عرصہ گزر گیا مگر خوبصورت عمارت میں نہ تو عملہ تعینات کیا گیا اور نہ ہی ایکسرے مشین مہیا کی گئی۔ کیپٹن نجم ریاض شہید کے نام سے منسوب رورل ہیلتھ سنٹر کے فعال نہ ہونے کی وجہ سے ہزاروں نفوس پر مشتمل گاؤ ں تھوہاخالصہ کے عوام شدید مشکلات کا شکا ر ہیں۔ ان خیالات کا اظہار چیئرمین یونین کونسل مٹور راجہ اشتیاق احمد نے اخباری نمائندوں سے گفتگو کے دوران کیا۔ انہوں نے کہا کہ ممبر ان قومی و صوبائی اسمبلی صداقت عباسی اور راجہ صغیر احمد ترجیحی بنیادوں پر آر ایچ سی پر توجہ دیں۔ اس موقع پر اہلیا ن علاقہ کی بہت بڑی تعداد میں بھی شدید احتجا ج کرتے ہوئے اعلی حکام سے فوری نوٹس لینے کا مطالبہ کیا۔