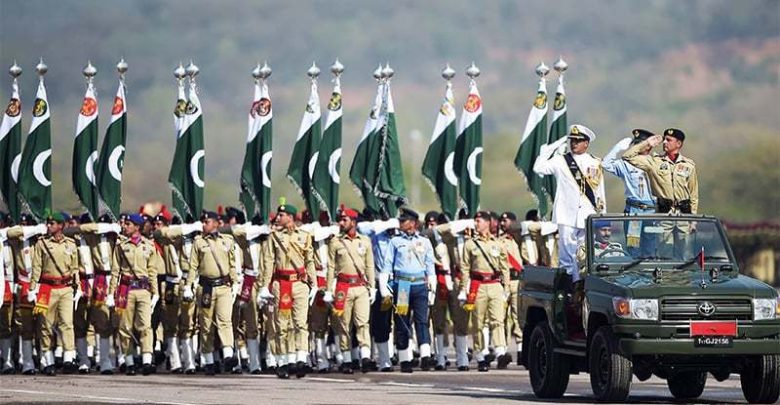 ملک بھرمیں یوم دفاع کشمیریوں کے ساتھ اظہار یکجہتی کرتے ہوئے منایا جا رہا ہے
اسلام آباد: ملک بھر میں یوم دفاع پاکستان آج ملی جوش وجذبے اور شہدائے وطن کے ساتھ محبت وعقیدت کے ساتھ منایا جا رہا ہے۔تفصیلات کے مطابق ملک بھر میں یوم دفاع یوم یکجہتی کشمیر کے طور پر منایا جا رہا ہے جس کا مقصد وطن عزیز کے لیے جانوں کا نذرانہ پیش کرنے والے شہدا کے ساتھ ساتھ بھارت مقبوضہ کشمیر میں مظلوم کشمیریوں کے ساتھ پاکستانی عوام کی حمایت کا اعادہ کرنا ہے۔یوم دفاع پاکستان پر وفاقی دارالحکومت اسلام آباد میں دن کا آغاز 31 اور صوبائی دارالحکومتوں میں 21 توپوں کی سلامی سے ہوا، نماز فجر کے بعد مساجد میں ملکی سلامتی اور کشمیریوں کی آزادی کی دعائیں کی گئیں۔شہداء کو خراج عقیدت پیش کرنے کے لیے جی ایچ کیو میں یوم دفاع کی مرکزی تقریب منعقد ہوئی۔ آرمی چیف جنرل قمرجاوید باجوہ تقریب کے مہمان خصوصی تھے۔
آرمی چیف نے یادگارشہدا پرحاضری دی، پھول چڑھائے اور فاتحہ پڑھی، تقریب میں بگل بجائے گئے اورشہدا کو سلامی پیش کی گئی۔
Rawalpindi; As Kashmiri people continue to suffer under a month-long lockdown imposed by the Indian forces following the abolition of Article 370 that ended held Kashmir's special status enshrined in its constitution, Pakistan observes the Defence and Martyrs Day today as Kashmir Solidarity Day.
Today marks the 54th anniversary of 1965 Pakistan-India war when Pakistan Army successfully defended the country against a multi-pronged Indian attack on the eastern border. This year, the Defence Day is being observed to pay tribute to the country's martyrs and to reaffirm commitment to defending Pakistan against all threats.
The day began with a 31-gun salute in the federal capital and 21-gun salutes in the provincial capitals. Special prayers were also offered after Fajr prayers for the independence of occupied Kashmir as well as for the progress and prosperity of Pakistan.
The main ceremony for Defence Day is currently being held at the General Headquarters (GHQ) in Rawal­pindi, where Chief of Army Staff (COAS) General Qamar Javed Bajwa laid a wreath at the Martyrs Monument and observed a guard of honour.