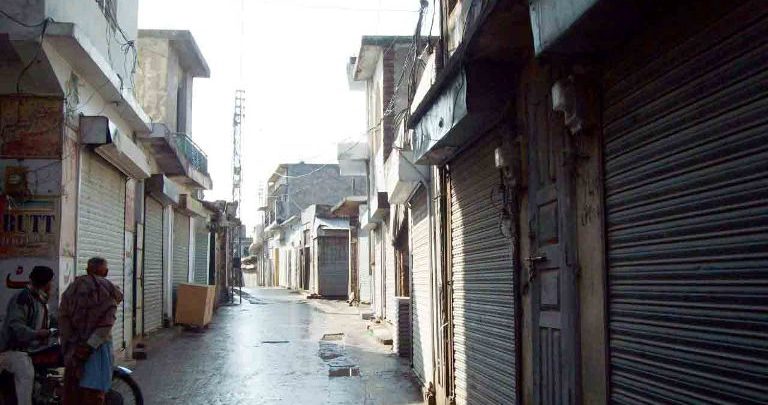 مرکزی تنظیم تاجران پاکستان کے صدر محمد کاشف چوہدری نے کہا ہے تیرہ جولائی کو مکمل شٹر ڈائون کی تیاریاں مکمل کرلی ہیں۔تاجر برادری کے مطالبات تسلیم ہو نے تک حکو مت سے کسی بھی قسم کے مذاکرات نہیں کیے جا ئیں گے ،انہوں نے بجٹ کو مسترد کرتے ہوئے کہا 13 جولائی کو ملک بھر میں مکمل شٹرڈائون ہڑتال ہو گی۔ ان خیالات کا اظہار انھوں نے تاجر تنظیموں کے اجلاس کے بعد مشتر کہ پر یس کانفر نس سے خطاب کر تے ہو ئے کیا ،اس موقع پر دیگر تاجر رہنماؤں نے بھی خطاب کیا ۔دوسری طرف آل پاکستان مرکزی انجمن تاجران کے صدر اجمل بلوچ اور سیکرٹری اطلاعات خالد چوہدری نے اسلام آباد کی مختلف تاجر تنظیموں اور مارکیٹ ایسوسی ایشنوں کا دورہ کیا اور 13جولائی کو شٹرڈاؤن ہڑتال کی دعوت دی، اجمل بلوچ نے کہا ہڑتال حکومت کے خلاف نہیں بلکہ تاجر دشمن آئی ایم ایف بجٹ کے خلاف ہے، ایف بی آر تاجروں کی بات سننے کو تیار نہیں۔
Rawalpindi; The Markazi Tanzeem Tajiran Pakistan (MTTP), a representative body of traders, rejecting Budget 2019-20 has announced a country-wide shutter down strike on July 13.
MTTP President Muhammad Kashif said that the government would not succeed in sowing differences amongst the traders. He said that the deadline of July 7 for approval of 32-points charter of demand presented to the government had passed.
Kashif said all organisations of traders across the country would shut-down markets on the announced date. Further, Kashif said that the transporters would observe a wheel-jam strike on July 14 against heavy taxes in budget. He added the traders would go on an indefinite strike if the government still paid no heed to their demands after the strike.