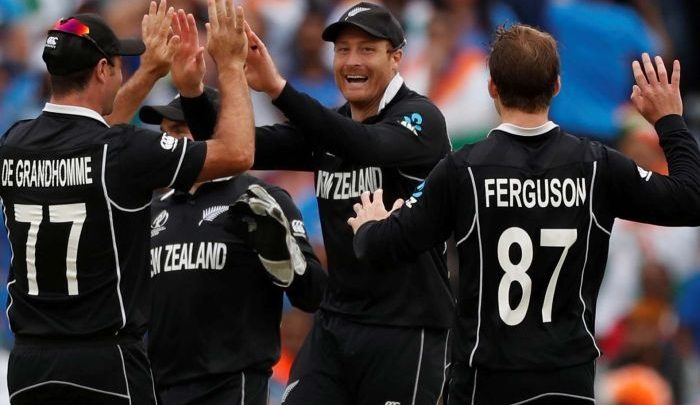 بھارت ہدف کے تعاقب میں مشکلات کا شکار ,آئی سی سی کرکٹ ورلڈکپ 2019ء کے پہلے سیمی فائنل میں نیوزی لینڈ نے دلچسپ اور سنسنی خیز مقابلے کے بعد بھارت کو 18رنز سے شکست دے کر ایونٹ سے باہر کردیا۔نیوزی لینڈ کی ٹیم مسلسل دوسری مرتبہ ورلڈ کپ کا فائنل کھیلے گی، 2015ء میں بھی وہ فائنل میں پہنچی تھی جہاں اُسے آسٹریلیا کے ہاتھوں شکست کا سامنا کرنا پڑا تھا۔مانچسٹر میں 240 رنز کے ہدف کے تعاقب میں بھارتی ٹیم 221 رنز پر ڈھیر ہوگئی۔
New Zealand reached a second straight Cricket World Cup final after late half-centuries by Ravindra Jadeja and MS Dhoni narrowly failed to make up for an unprecedented top-order collapse by India in its 18-run loss on Wednesday.
Chasing 240 to win on the reserve day of a rain-hit semi-final at Old Trafford, India plunged to 5-3 — the top three of Rohit Sharma, KL Rahul and Virat Kohli were dismissed for 1 each — after 17 balls of the reply and then 24-4, after Jimmy Neesham's sensational one-handed catch removed Dinesh Karthik (6).
Dhoni (50) and Jadeja (77 in 59 balls) gave India hope by putting on a World Cup-record 116 for the seventh wicket but they were both dismissed, leaving the team needing 23 off the final over.
India was bowled out for 221 with three balls remaining. New Zealand will play England or Australia in the final at Lord's on Sunday.