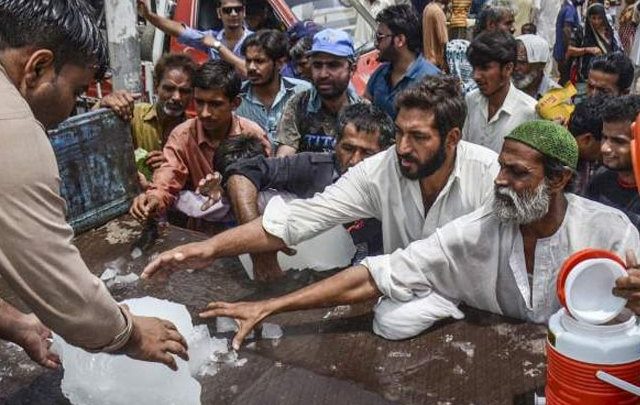 جبر(ممراز شیخ سے)خطہ پوٹھوہار شدید گرمی کی لپیٹ میں بچے نوجوان گرمی کی شدت کو کم کرنے کے لیے ڈیمز،تالابوں کا روخ کرنے لگے جسکی وجہ سے پانی میں ڈوب کر مرنے والوں تعداد میں اضافہ ہو رہا ہے حکومت سوئمنگ وغیرہ کا بندوبست کرئے اور ایسی سرگرمیوں کی روک تھام کے لیے عملی اقدامت کیے جائیں ان دنوں گرمی بہت تیز پڑھ رہی ہے،موسمی اثرات،ان کی تبدیلی سمیت کمی اور کثرت یہ سب اختیارات اللہ تعالیٰ کے پاس ہیں،آئے دن ہمیں یہ واقعات پڑھنے کو ملتے ہیں کہ فلاں ڈیم میں بچے نہاتے ہوئے جاں بحق ہو گئے فلاں نالے میں اتنے آدمی ڈوب کر مر گئے،بلخصوص گوجرخان اور کلرسیداں میں یہ واقعات کافی ذیادہ ہو رہے ہیں،شدید گرمی ہے اس کا مطلب یہ ہر گز نہیں کہ ڈیم میں نہانے سے ہی گرمی کم ہو گئی گھر میں رہ کر بھی گرمی کم کی جاسکتی ہے گیلے کپڑے وغیرہ کو سر پر رکھنے سے گرمی کم کی جاسکتی ہے اس جدید دور میں ہر گھر میں گرمی اور سردی کا بندوبست ہے بجائے گھر میں رہ کر سہولیات سے استفادہ حاصل کریں اپنی جانیں ضائع کر نے میں نوجوان اور بچوں کی تعداد کافی ہے جو کہ ایک تشویش ناک صورتحال ہے اپنے والدین کے لیے دکھ اور پریشانی کا سبب بننے کے بجائے تھوڑی سے گرمی برداشت کر لیں توکوئی بری بات نہیں ہے ایسے واقعات میں والدین برابر کے شریک ہیں جو اپنی اولاد کی قدر نہ کرتے ہوئے ان کو ایسے جگہوں پر جانے سے نہیں روکتے بعد میں جانی نقصان کا سامنا کرنا پڑتا ہے گرمی کی شدت کو کم کرنے کے لیے ایک آسان بندبست یہ ہے کہ ہر آدمی اپنے گھر کے آس پاس ایک درخت لگا دے اپنے یا اپنے بچوں کے نام سے درخت کی کثرت سے گرمی کی شدت میں کمی آئے گی خدا راہ وہ تمام بھائی چھوٹے بچے ایسی منفی سرگرمیوں سے بار رہیں اور والدین اپنے بچوں کو ایسے جگہوں پر جانے سے روکیں
Gujar Khan;
According to the Pakistan Meteorological Department (PMD), this year's summer is proving to be the hottest ever in the history of Pakistan.
Various parts of Pakistan have seen fluctuating temperatures between 46 °C to 52 °C in the past few days.
It is for the first time in the history of Pakistan that the temperature in Pothwar region has crossed 45 °C for two consecutive days, starting from the beginning of June.
The highest temperature in Islamabad was recorded in June 2005 which was 46.6 °C. Sunday's temperature was close to breaking the 12-year record.