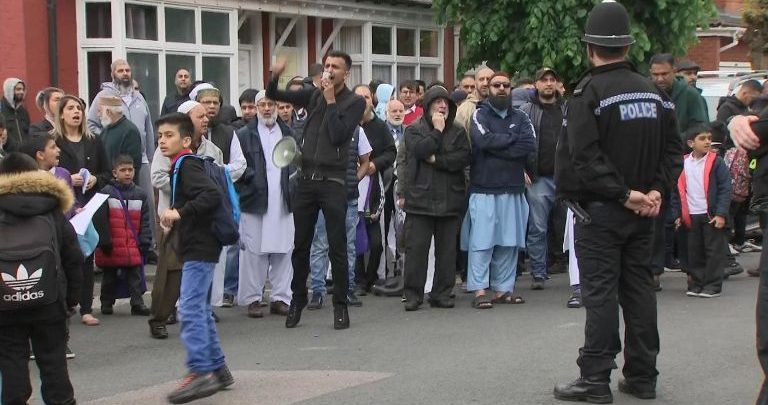 برمنگھم ; ہائی کورٹ کے حکم کے ذریعے ایک پرائمری اسکول میں جنسی تعلیم ایل جی بی ٹی ٹیچنگ کے خلاف احتجاج کرنے والوں کو گیٹس کے باہر جمع ہونے سے روک دیا گیا۔ برمنگھم سٹی کونسل سے اینڈرٹن پارک پرائمری اسکول کے باہر مہینوں کے مظاہرے کے بعد لیگل ایکشن کا راستہ چنا۔ اسکول کو بڑھتے ہوئے ایکشن کی وجہ سے ہاف ٹرم سے قبل بند کرنا پڑا۔ کونسل نے کہا ہے کہ اسے اس خدشے پر کہ بچے شدید سیریس ہوسکتے ہیں، فوری عدالتی حکم حاصل کرنا پڑا۔ اس نے کہا ہے کہ مظاہرین کا رویہ ناقابل قبول ہے۔ اتھارٹی نے کہا ہے کہ اس نے اسٹاف اور طلبہ کے تحفظ کیلئے درخواست دی جو پیر کو ہاف ٹرم بریک سے واپس لوٹیں گے، مظاہرہ کرنے والوں کو ہائی کورٹ کے حکم کے بارے میں آگاہ نہیں کیا گیا۔ تاہم بی بی سی نے بتایا کہ ان کا اسکول سے دور ایک اسٹریٹ پر اگلے ہفتے جمع ہونے کا ارادہ ہے۔ عدالتی حکم10جون تک نافذ رہے گا جب ڈائیورسٹی ٹیچنگ کے خلاف لوگوں کو اپنا کیس ایک جج کے سامنے پیش کرنے کا موقع دیا جائے گا۔ کونسل لیڈر آئن وارڈ نے کہا ہے کہ سوجھ بوجھ پھیل گئی ہے۔ برمنگھم کے بچوں کو بغیر کسی رخنے کے آزادانہ طور پر اسکول اٹینڈ کرنا چاہیے۔ انہوں نے والدین اور کمپنیرز پر زور دیا کہ وہ اس موقع کو اسکول کے ساتھ تعمیری مذاکرات کے لئے استعمال کریں۔ والدین نے ان خدشات پر
احتجاج شروع کیا ہے کہ ان کے بچے ایل جی بی ٹی تعلقات کے بارے میں جاننے کے لئے بہت چھوٹے ہیں۔ ان کا یہ بھی کہنا ہے کہ اسباق اسلام کے منافی ہیں۔ احتجاج کرنے والوں کی قیادت کرنے والے شکیل افسر نے جن کے بچے اسکول میں نہیں، کہا ہے کہ وہ عدالتی حکم کو چیلنج کریں گے
Birmingham; 
Demonstrators protesting against primary school children being taught that people of all genders and sexualities should be treated equally have been served with a high court injunction.
Birmingham city council made the application following several weeks of protests outside Anderton Park primary school in the city.

'We can't give in': the Birmingham school on the frontline of anti-LGBT protests
Read more
Citing "increasing fears for the safety and wellbeing of the staff, children and parents", the council said it pursued legal action after the situation had become "too serious to tolerate".
The interim injunction covers the streets immediately surrounding the school and prevents protesters printing or distributing leaflets, inviting others to protest and encouraging people to congregate at the entrance. The protesters will have a chance to make their case to a judge on 10 June.
---
یکم جون کشمیر فیرن ڈے کے طور پر منایا گیا
Kashmiri cultural dress Faran day celebrated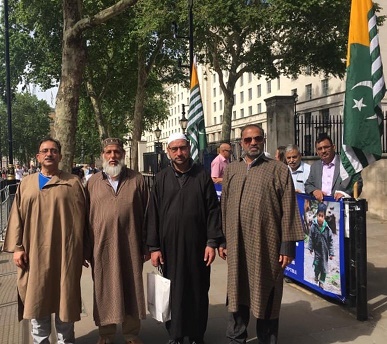 لندن۔یوکے; یکم جون کشمیر فیرن ڈے کے طور پر منایا گیا۔ برطانیہ میں مقیم برٹش کشمیریوں نے قومی لباس اور کلچر کے تحفظ کیلئے لندن میں ثقافتی دن منایا۔ اس موقع پر کشمیری راہنماء حاجی راجہ محمد اسحاق خان چیف آرگنائز آل جموں و کشمیر مسلم کانفرنس برطانیہ، جموں اینڈ کشمیر ڈیموکریٹک فریڈم پارٹی کے ارشاد ملک، صحافی غلام نبی فلاحی اور صحافی ساجد جنجوعہ کشمیر ی ریاست جموں و کشمیر کا صدیوں پرانا ثقافتی کشمیری لباس فیرن پہن کر  برطانوی وزیر اعظم کی سرکاری رہائشگاہ 10 ڈاؤننگ اسٹریٹ کے باہر کھڑے ہیں۔جبکہ عقب میں راجہ شوکت علی، راجہ آزاد خان اور پروفیسر شاہد اقبال و دیگر کشمیری جھنڈے کے ہمراہ نظر آ رہے ہیں۔
---