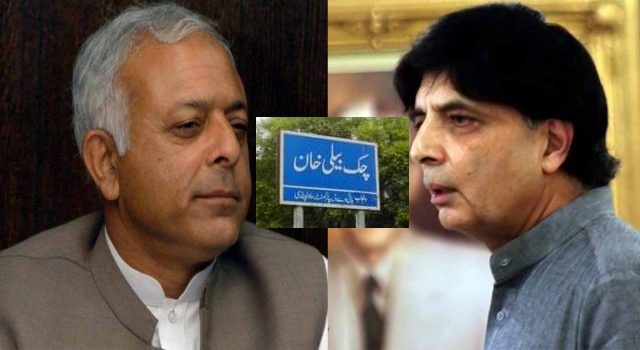 چک بیلی خان( نامہ نگار) وفاقی وزیر پٹرولیم غلام سرور خان نے سابق وزیر داخلہ چوہدری نثار علی خان پر کڑی تنقید کرتے ہوئے کہا کہ چوہدری نثار علی خان 35 برس تک اقتدار کے مزے لوٹنے کے بعد حلقہ پی پی 10 سے کامیابی حاصل کرنے کے باوجود اب تک حلف نہ اٹھا کر حلقہ کے عوام سے غداری کی اور ان کے حقوق پر ڈاکہ ڈالا ہے جس پر وہ کسی بھی رعایت کے مستحق نہیں ۔ان خیالات کا اظہار انہوں نے ہفتہ کے روز چک بیلی خان میں ایک بڑے اجتماع سے خطاب کرتے ہوئے کیا۔وفاقی وزیر نے کہا کہ چوہدری نثار علی خان نے گزشتہ 35 برسوں سے چونترہ اور روات کے لوگوں کو ان کے بنیادی حقوق سے محروم رکھا اور چار بار وزیر پٹرولیم رہنے کے باوجود چونترہ کے کسی ایک گاؤں کو بھی سوئی گیس کی سہولت فراہم نہ کر سکے۔وفاقی وزیر نے اس موقع پر چک بیلی خان کے 8 دیہات جبکہ روات کے چار دیہات میں سوئی گیس کی فراہمی کا اعلان کیا جبکہ باقی ماندہ علاقوں میں بتدریج گیس کی سہولت فراہم کر دی جائے گی۔انہوں نے کہا کہ اس موقع پر چک بیلی خان کو تحصیل کا درجہ دلانے اور سو بستروں کے ہسپتال کے قیام جبکہ ادھوال اور جٹھہ ہتھیال میں ڈگری کالجز کے قیام کا بھی اعلان کیا۔انہوں نے کہا کہ 1988 سے میرا اس علاقہ کے عوام کیساتھ رشتہ قائم ہے۔اس علاقہ کے مسائل سے بخوبی آگاہ ہوں اور تمام مسائل کو ترجیحی بنیادوں پر حل کرونگا۔انہوں نے کہا کہ بحثیت ایم این اے پہلے سال ملنے والے تمام فنڈز کوروات سمیت 12 دیہات کی تعمیر و ترقی کیلئے مختص کرنے کا بھی اعلان کیا ۔انہوں نے کہا کہ چک بیلی خان اور روات کے علاقے پسماندگی کا شکار تھے جن کی پسماندگی کا خاتمہ کئے بغیر چین سے نہیں بیٹھونگا۔انہوں نے پارٹی میں دھڑے بندی اور گروپ بندی پر سخت ناراضگی کا اظہار کرتے ہوئے کہا کہ پارٹی کے اندر پارٹی بنانے کی قطعی طور پر اجازت نہیں دی جائے گی ۔میری سیاست کا محور عوام کی خدمت ہے۔جلسہ میں ایم پی اے حاجی امجد خان نے بھی شرکت کی جبکہ چوہدری محمد افضل پڑیال،چوہدری امیر افضل، سابق ناظم چوہدری محمد اقبال،چوہدری مسعود جیلانی اور چوہدری رجاسب علی خان نے بھی خطاب کیا۔اس موقع پر ملک نعیم اعوان،کرنل (ر) محمد نواز ،حاجی عاشق اور شکیل وینس بھی موجود تھے۔
Gujar Khan; Current Federal Minister for Petroleum and member of the National Assembly of Pakistan, Ghulam Sarwar Khan in his public address in Chak Bale Khan region of Gujar Khan said that, Ch Nisar Ali Khan after enjoying his 35 year tenure has let down public of constituency PP10 and has so far refused to take oath.
Ghulam Sarwar Khan also said that Ch Nisar Ali Khan had deprived public in Chauntra and Rawat region, At the meeting Ghulam Sarwar Khan announced gas supply for four villages in Rawat and eight villages in Chak Bale Khan region.
Their was also announcement that plans would be made to make Chak Bale Khan a Tehsil and in Chak bale Khan to establish hospital and college.