Rescue services called after fire at Commercial market, Pindi
تھانہ نیوٹاؤن کے علاقہ کمرشل مارکیٹ میں رات گئے ایک پلازہ میں آگ لگ گئی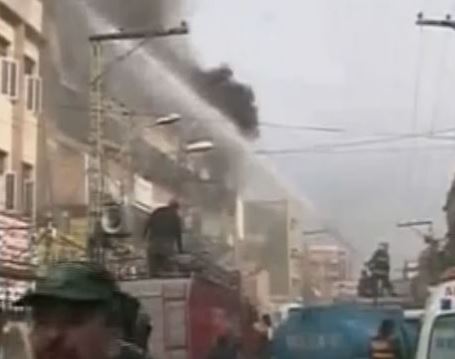 تھانہ نیوٹاؤن کے علاقہ کمرشل مارکیٹ میں رات گئے ایک پلازہ میں آگ لگ گئی۔ریسکیوذرائع کے مطابق منگل اوربدھ کی درمیانی رات ساڑھے بارہ بجے کے قریب کمرشل مارکیٹ میں پرانے نادراآفس اورچمن آئسکریم کے قریب واقع اڈیالہ پلازہ میں آگ بھڑک اٹھی اس پلازہ کی تیسری منزل پرلڑکوں کاہاسٹل بھی واقع ہے جب کہ بیسمنٹ اورگراؤنڈفلورپرکپڑے اوردیگرسازوسامان کی دکانیں ہیں ۔ذرائع کے مطابق آگ بیسمنٹ میں لگی جہاں اکثردکانیں بندتھیں ،اطلاع ملنے پرریسکیو1122کی آگ بجھانے والی گاڑیاں موقع پرپہنچ گئیں۔
Rawalpindi; Fire erupted at the basement of a plaza situated in the Commercial Market area of Rawalpindi on Tuesday night which quickly engulfed the five-storey plaza.
According to detail, fire broke out in the cloth shops situated in the basement of the plaza which quickly spread to the other parts of the building, trapping at least 15 university students residing in the hostel in the upper floors of the five-storey plaza.
The trapped students managed to escape from the blaze on self-help basis and remained unhurt.Six fire brigade vehicles reached the spot after getting information and brought the fire under control after a hectic effort of one-and-a-half hour. According to rescue sources, the cause of fire is not yet known.