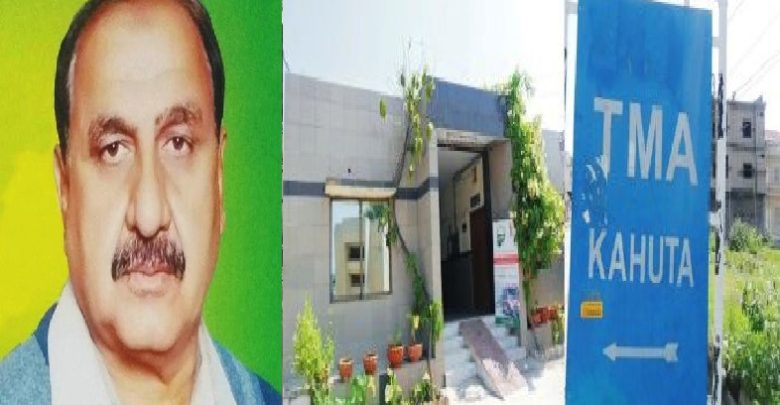 چیئرمین میونسپل کمیٹی کہوٹہ راجہ ظہور اکبر نے ہاؤس میں اکثریت ممبران کا اعتماد کھو دیا ۔ (18)ممبران میں سے دس ممبران نے بجٹ اجلاس مسترد کرتے ہوئے رائے شماری کا مطالبہ کر دیا ۔ مسلسل دوسرے روز بھی سینئر ممبر قاضی عبدالقیوم کی زیر صدارت اجلاس میں اکثریت ممبران نے رائے شماری کی بجائے دوسری مرتبہ ایک ہفتہ کے لیئے اجلاس ملتوی کرنے کو غیر قانونی اور جمہوری روایات کے خلاف قرار دیا ۔ اجلاس میں اپو زیشن ممبران راجہ وحید احمد ، آصف ربانی قریشی ، راجہ سعید احمد ایڈووکیٹ نے شدید احتجاج کیا ۔ اور دس ممبران نے کھڑے ہو کر کہا کہ ڈکٹیٹر شپ کو نہیں مانتے ۔ اجلاس ملتوی کرنا غیر قانونی ہے ۔ اجلاس میں آصف ربانی قریشی صدر الفتح گروپ ،راجہ وحید احمد ،راجہ سعید احمد ایڈووکیٹ ، مظہر اقبا ل بھٹی ایڈووکیٹ ، عبدالحمید قریشی ایڈووکیٹ ،حاجی عبدالرؤف ، ماسٹر (ر) نواز قریشی ، شازیہ نورین ، صفینہ شاہین ،حاجی ارشد نے رائے شماری کا مطالبہ کیا ۔ جبکہ کنوئینر سینئر ممبر قاضی عبدالقیوم نے اجلا س ایک ہفتہ کے لیئے ملتوی کر دیا ۔ اس موقع پر چیئرمین میونسپل کمیٹی کہوٹہ راجہ ظہور اکبر مخالف ممبران کی منت سماجت کرتے رہے ۔ مگر بات نہ بن سکی ۔ مسلسل دو دن اجلاس میں ناکامی اوربجٹ کی منظوری نہ ہونے اور رائے شماری نہ کرانے پر میونسپل کمیٹی کہوٹہ کی سیاست دلچسپ مر حلے میں داخل ہو چکی ہے ۔ دو دن سے لگاتار اجلاس میں رائے شماری نہ کرانے پر اپوزیشن ممبران سیخ پا ہیں ۔ اور عدم اعتماد کی افواہیں گردش کرنے لگی ہیں۔
Kahuta; After failing to agree budget with the opposition, Raja Zahoor Akbar has lost authority at the municipal committee Kahuta.
The opposition group led by Raja Waheed Ahmed Khan and al Fatah group led by Asif Rabbani Qureshi holds all the cards and has no confidence in Raja Zahoor Akbar. Currently 18 member municipal committee is 10-8 in opposition and in strong position.
این اے 57اور پی پی سیون میں تیس سالہ سیاہ دور ختم
عمران خان نے 22سال قبل جو خواب دیکھا تھا وہ پورا ہو گیا۔ این اے 57اور پی پی سیون میں تیس سالہ سیاہ دور ختم ہوا۔ عمران نے جو امید کی کرن دکھائی تھی ۔کہ غریبوں کو اوپر لائیں گے ۔ آزاد امیدوار حلقہ پی پی سات کہوٹہ راجہ صغیر احمد کی تحریک انصاف میں شمولیت پر خوش آمدید کہتے ہیں ۔ان کی شمولیت خوش آئند ہے ۔ اداروں کو مضبوط اور امیر غریب کے لیے یکساں انصاف کی فراہمی کو یقینی بنایا جائے گا۔ 14اگست سے قبل مرکز پنجاب اور کے پی کے میں تحریک انصاف کی حکومت ہو گی۔ میاں نواز شریف نے کہا تھا۔ کہ پانچ ججوں کا فیصلہ نہیں مانتا 22کروڑ عوام کا فیصلہ قبول کرونگا اب عوام نے انکو مسترد کر دیا ہے ۔میاں نواز شریف کو ختم نبوت ﷺ کے قانون میں ترمیم کرنے کی کوشش کرنے کی مار پڑی ہے ۔ان خیالات کا اظہار صدر تحریک انصاف تحصیل کہوٹہ راجہ خورشید ستی ، جنرل سیکرٹری تحصیل کہوٹہ راجہ الطاف حسین ، صدر تحریک انصاف کہوٹہ سٹی راجہ امتیاز عالم، سیکرٹری اطلاعات راجہ پرویز اقبال، مظہر قریشی و دیگر نے تحصیل بھر کی تنظیموں کے عہدیداران کے اجلاس سے خطاب کرتے ہوئے کیا ۔اس موقع پر صداقت علی عباسی کو سابق وزیر اعظم شاہد عباسی کے مقابلہ میں بھاری اکثریت سے کامیابی پر مبار ک باد دی اور میٹھائی تقسیم کی گئی۔ اجلاس میں سابق جنرل سیکرٹری تحریک انصاف تحصیل کہوٹہ راجہ منان مسعود ، صدر تحریک انصاف کہوٹہ سٹی راجہ امتیاز عالم ، راجہ غلام نبی ، سیکرٹری اطلاعات راجہ پرویز ، چوہدری واحد ، سردار نصیر ایڈووکیٹ ، مظہر قریشی ، مرزا غفور ، ارسلان عباسی، راجہ شوکت ، عابد کیانی کے علاوہ کثیر تعداد میں عہدیداران نے شرکت کی اجلاس میں فیصلہ کیا گیا۔ کہ تنظیموں کو مضبوط بنایا جائیگا ۔راجہ خورشید ستی نے کہا کہ بلدیاتی الیکشن بہت جلد ہونگے۔ اور تنظیموں کی مشاورت سے امیدوار لائے جائیں گے۔ انھوں نے کہا کہ صداقت عباسی انشا اللہ عوام سے کیے گئے وعدے پورے کرینگے۔