روات کے قریب تیز رفتار کار درخت سے جا ٹکرائی دو افرا د جاں بحق،حادثہ ہفتہ کی شام بگا شیخاں کے قریب جاوا موڑ پر پیش آیا۔
کلر سیداں:(نمائندہ پوٹھوار ڈاٹ کوم,اکرام الحق قریشی)—روات کے قریب تیز رفتار کار درخت سے جا ٹکرائی دو افرا د جاں بحق،حادثہ ہفتہ کی شام بگا شیخاں کے قریب جاوا موڑ پر پیش آیا۔کار تیز رفتاری کے باعث سڑک کے کنارے لگے درخت سے جا ٹکرائی جس سے پچیس سالہ نادیہ دختر ریاض اور اٹھارہ سالہ ماریہ اشتیاق دختر محمد اشتیاق ساکنان گوجر خان جاں بحق ہو گئے۔حادثے میں پچیس سالہ عدیل ولد جنید بھی زخمی ہوئے۔
Kallar Syedan; Two persons were killed when a speeding car collided with a tree near Rawat. The accident took place at Java turn near Baga Sheikhan on Saturday evening. The car collided with a roadside tree due to high speed. Eighteen-year-old Maria Ishtiaq, daughter of Muhammad Ishtiaq and Nadia daughter of of Riaz both resident of Gujar Khan, were killed. Adeel son of Junaid, 25, was also injured in the accident.
پولیس کی اہم کاروائی، منی ایکسچینج پر ڈکیتی کی واردات میں ملوث شہابہ ڈکیت گینگ کا اشتہاری مجرم گرفتار، گرفتار ملزمان کی تعداد سات ہوگئی
In a major police operation, a notorious criminal of Shahaba robbery gang involved in money exchange robbery was arrested, the number of arrested accused has increased to seven.
کلر سیداں:(نمائندہ پوٹھوار ڈاٹ کوم,اکرام الحق قریشی)—کلر سیداں پولیس کی اہم کاروائی، منی ایکسچینج پر ڈکیتی کی واردات میں ملوث شہابہ ڈکیت گینگ کا اشتہاری مجرم گرفتار، گرفتار ملزمان کی تعداد سات ہوگئی ان سے بتیس لاکھ روپے سے زائد مسروقہ رقم بھی برآمد کر لی گئی ملزمان نے سال 2020 میں چواروڈ کلرسیداں شہر میں ایک منی ایکسچینج پر ڈکیتی کے دوران فائرنگ کر کے سیکورٹی گارڈ کو زخمی کیا تھا اور رقم لے کر فرار ہوگئے تھے۔تفصیلات کے مطابق راولپنڈی پولیس کا اشتہاری مجرمان کے خلاف کاروائیوں کا سلسلہ جاری ہے، ایس ڈی پی اوکہوٹہ کی زیر نگرانی ایس ایچ او کلرسیداں قیصر رشید کیانی نے اپنی ٹیم کے ہمراہ کاروائی کرتے ہوئے شہابہ ڈکیت گینگ کے اشتہاری مجرم کو گرفتار کر لیا بتایا جاتا ہے کہ مجرم کی شادی شروع تھی کہ پولیس نے قابو کرلیا ملزمان نے سال 2020 میں راجگان منی ایکسچینج پر ڈکیتی کے دوران فائرنگ کر کے سیکورٹی گارڈ کو زخمی کرنے کے رقم لے گئے تھے ایس پی صدر نے بتایا کہ ڈکیت گینگ کے 06 ملزمان شہاب الدین عرف شہابہ، وقاص عرف وکی، یحییٰ علی، محمد اسحاق، جنید اقبال اور محمد یوسف قبل ازیں گرفتار ہو چکے ہیں جن سے درست شناخت پریڈ کے بعد دوران تفتیش چھینی گئی رقم 32لاکھ 50ہزار روپے برآمد کی جا چکی ہے، گرفتار اشتہاری مجرم کو شناخت پریڈ کے لیے جیل منتقل کر دیاگیا، درست شناخت پریڈ کے بعد اشتہاری مجرم سے مزید تفتیش کی جائے گی،سی پی او راولپنڈی محمدا حسن یونس نے اشتہاری مجرم کی گرفتاری پر ایس پی صدر،ایس ڈی پی او کہوٹہ اور کلرسیداں اور پولیس ٹیم کو شاباش دی ہے۔
کورونا کے پیش نظر کلرسیداں سے راجہ بازار راولپنڈی کے درمیان چلنے والی اے سی کوسٹر سروس کو بھی بند کردیا گیا
The AC coaster service between Kallar to Raja Bazar Rawalpindi suspended due to Corona.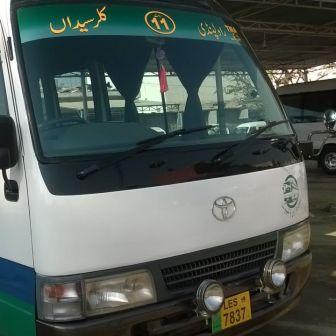 کلر سیداں:(نمائندہ پوٹھوار ڈاٹ کوم,اکرام الحق قریشی)—کورونا کے پیش نظر کلرسیداں سے راجہ بازار راولپنڈی کے درمیان چلنے والی اے سی کوسٹر سروس کو بھی بند کردیا گیا گاڑیاں روڈ سے ہٹا لی گئیں جبکہ کہوٹہ اور گوجرخان کے درمیان چلنے والی اے سی کوسٹر سروس کو بھی بند کردیا گیا مگر ٹویوٹا اور ویگن سروس معمول کے مطابق جاری ہے۔
پولیس نے منشیات فروش کے قبضے سے 12 بوتل شراب برآمد کر کے مقدمہ درج کر لیا
Police recovered 12 bottles of liquor from the possession of the drug dealer and registered a case
کلر سیداں:(نمائندہ پوٹھوار ڈاٹ کوم,اکرام الحق قریشی)— کلر سیداں پولیس نے منشیات فروش کے قبضے سے 12 بوتل شراب برآمد کر کے مقدمہ درج کر لیا۔پولیس رات دو بجے کے قریب موہڑہ روپیال میں موجود تھی کہ اسی دوران ایک موٹر سائیکل چوکپنڈوری کی جانب سے آیا جسے مشکوک جانتے ہوئے روک لیا گیا۔ملزم نے بعد از دریافت اپنا نام و پتہ رحیم شاہ سکنہ راولپنڈی بتایا کی از خود تلاشی لینے پر 12 بوتل دیسی شراب برآمد ہوئی۔