Pothwar.com
Kallar Syedan
DailyNews
Kallar Syedan; SP Saddar Division Kamran Hameed visits Kallar Syedan Police Station last night where he met SHO Sub-Inspector Qaiser Rasheed Kayani and investigating officers.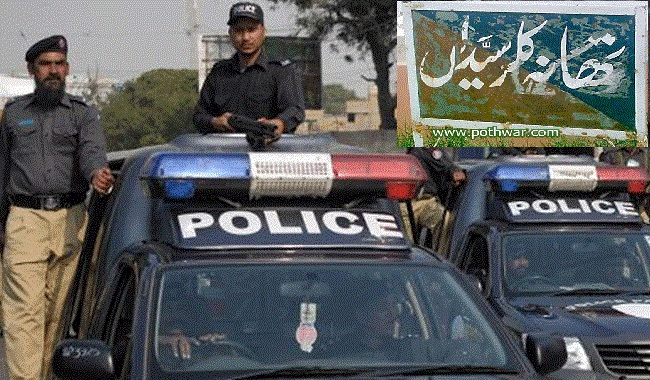 ایس پی صدر ڈویژن کامران حمید گزشتہ شب اچانک تھانہ کلر سیداں پہنچ گئے جہاں انہوں نے ایس ایچ او سب انسپکٹر قیصر رشید کیانی اور تفتیشی آفسران سے ملاقاتیں
کلر سیداں:(نمائندہ پوٹھوار ڈاٹ کوم,اکرام الحق قریشی)—ایس پی صدر ڈویژن کامران حمید گزشتہ شب اچانک تھانہ کلر سیداں پہنچ گئے جہاں انہوں نے ایس ایچ او سب انسپکٹر قیصر رشید کیانی اور تفتیشی آفسران سے ملاقاتیں کیں اور تعارفی اجلاس میں خطاب کرتے ہوئے کہا کہ پولیس علاقے میں امن و امان کی صورتحال کی بہتری اور عوام کے جان و مال کے تحفظ کیلئے جانفشانی سے فرائض سر انجام دے۔امن و امان کو مزید بہتر بنانے کیلئے ہر ممکن اقدامات کئے جائیں تا کہ عوام عدم تحفظ کا شکار نہ ہوں۔تھانے کی سطح پر انصاف کی فراہمی کو یقینی بنا کر پرامن معاشرے کا قیام پولیس کی اولین ترجیح ہونی چاہئے۔ ایس پی صدر نے حوالات میں بند قیدیوں سے بھی بات چیت کی اور ریکارڈ چیک کیا۔تھانے میں صفائی ستھرائی کے معاملات پر اطمینان کا اظہار کیا۔ایس پی صدر نے فرنٹ ڈیسک کا بھی دورہ کیا اور اس موقع پر انچارج فرنٹ ڈیسک محمد مبشر وحید سے ای ضمنی اور بائیو میٹرک مشین کے استعمال کے بارے میں بھی استفسار کیا اور فرنٹ ڈیسک پر وصول ہونے والی درخواستوں پر فوری طور پر ای ٹیگ لگا کر انہیں متعلقہ آفسران کے حوالے کرنے کی ہدایت جاری کی تا کہ بروقت تفتیش کے تقاضوں کو مکمل کر کے انصاف کی فراہمی کو یقینی بنایا جا سکے۔
Kallar Syedan; SP Saddar Division Kamran Hameed visited Kallar Syedan ​​police station last night where he met SHO sub-inspector Qaiser Rashid Kayani and investigating officers and while addressing the introductory meeting said that law and order situation in the police area has improved. He said that all possible steps should be taken to further improve law and order so that the people do not suffer from insecurity. Ensuring the provision of justice at the police station level Establishing a peaceful society should be the first priority of the police. The SP also talked to the detainees and checked their records. He also expressed satisfaction over the cleanliness of the police station. He also inquired about the use of e-supplement and biometric machine and directed to immediately e-tag the applications received at the front desk and hand them over to the concerned officers so as to fulfill the requirements of timely investigation.
الیکشن میں حصہ لینے کیلئے کاغذات نامزدگی پندرہ دن کے اندر جمع ہوں گے اور 23مارچ کو پریس کلب کلر سیداں کا الیکشن ہو گا۔
Nomination papers for the election will be submitted within 15 days and the election of Press Club Kallar Syedan will be held on March 23.
کلر سیداں:(نمائندہ پوٹھوار ڈاٹ کوم,اکرام الحق قریشی)—پریس کلب کلر سیداں کا ماہانہ اجلاس زیر صدارت ثاقب شبیر منعقد ہوا جس میں سینئر صحافی اکرام الحق قریشی، عابد حسین زاہدی، شہباز رشید چوہدری، جاوید اقبال، چوہدری محمد اشفاق اور یاسر یاسین ملک نے شرکت کی اور اجلاس میں آمدہ پریس کلب کے الیکشن کیلئے اکرام الحق قریشی اور عابد حسین زاہدی پر مشتمل الیکشن کمیشن قائم کردیا گیا الیکشن میں حصہ لینے کیلئے کاغذات نامزدگی پندرہ دن کے اندر جمع ہوں گے اور 23مارچ کو پریس کلب کلر سیداں کا الیکشن ہو گا۔