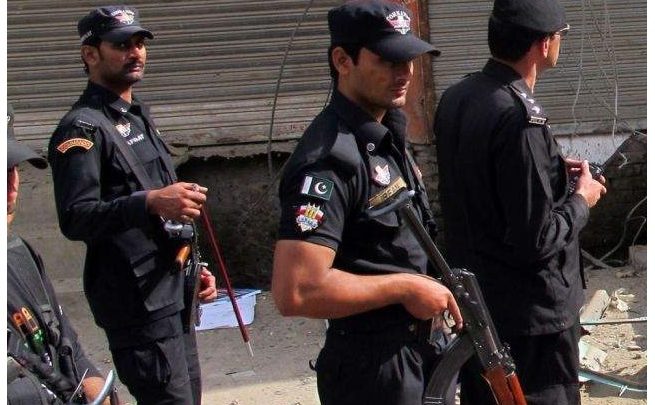 چکسواری (نمائندہ پوٹھوار ڈاٹ کوم) لڈرچکسواری میں مخالف پارٹی کے حملہ میں زخمی افرادمیرپورہسپتال میں زیرعلاج امجدحسین اورولیدنثار کوفائر(گولیاں) لگیں مقدمہ درج سات (7)ملزمان گرفتاراسلحہ وڈنڈے برآمدباقی ملزمان کی گرفتاری کے لیے پولیس کے چھاپے جاری وجہ عنادمقدمہ بازی اورتنازعہ اراضی ہے محمدسہیل ولدمحمدفاروق ساکن نیوٹاؤن چکسواری(سابقہ لڈر) کی مدعیت میں پولیس تھانہ چکسواری میں درج ایف آئی آرزیردفعاتکے مطابق اتوارکی شام سات بجے محمدسہیل،امجدحسین،وسیم یاسین اورولیدنثارادھ پلائی (لڈر) میں واقع ہوٹل میں بیٹھے چائے پی رہے تھے کہ اسی اثناء میں منور، شمریزبابوپسران لال اورثاقب،طفیل،عاقب پسران صوفی لطیف کارپرجبکہ رضوان ناظم موٹرسائیکل پرآئے۔ثاقب اورمنورکے پاس پستول اورباقی افرادکے پاس ڈنڈے تھے جوسہیل امجدوغیرہ پرحملہ آورہوئے۔ثاقب اورمنور نے قتل کی نیت سے فائرنگ کی۔ امجدحسین اورولیدحسین کوفائر(گولیاں) لگیں جبکہ محمد سہیل اورولیدنثارکوڈنڈوں سے زخمی کیاگیاپھراقبال،بابر،ا لطاف،صارم، جنگویز،مظہر،اعجاز، آصف وغیرہ بھی آگئے جنھوں نے مارپیٹ کی۔چودھری نویداحمدایس ایچ اوپولیس تھانہ چکسواری ہمراہ نفری موقع پرپہنچے جنھوں نے زخمیوں کورورل ہیلتھ سنٹرچکسواری پہنچایاچاروں زخمیوں کوابتدائی طبی امدادکے بعدمیرپورریفرکردیاگیا۔چکسواری پولیس نے فوری کاروائی کرتے ہوئے سات ملزمان کوگرفتارکرلیاہے جبکہ ایک پستول اورچارڈنڈے بھی برآمدکیے۔ باقی ملزمان کی گرفتاری کے لیے پولیس کے چھاپے جاری ہیں۔ وجہ عنادمقدمہ بازی اورتنازعہ اراضی ہے۔
Chakswari, AJK; Seven people treated for gun shots as rival groups declare war in village Ludar, Chakswari. According to police the row started over land dispute in which M Sohail of New town Chakswari along with friends were sitting in hotel and were attacked by Munawar and friends.
Gun shots were fired and total of seven people were injured and taken to hospital. Chakswari police have registered case and are investigating.