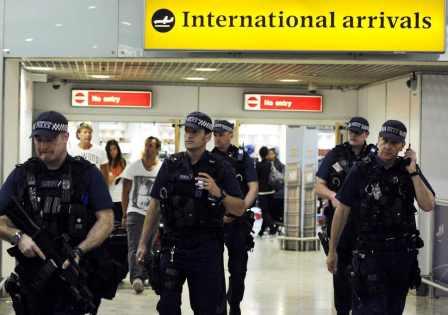 لندن (پی اے) پولیس اور بارڈر حکام نے جبری شادیوں کے خلاف ملک گیرکریک ڈائون کے دوران گزشتہ روز ملک کے مصروف ترین ہیتھرو ایئرپورٹ پر آنے والی 2 پروازوں کے 150سے زیادہ مسافروں سے پوچھ گچھ کی۔ حکام نے ہیتھرو ایئرپورٹ پر ایک نوجوان لڑکی سے پوچھ گچھ کی، جس کے بازو پر خراشیں نظر آرہی تھیں اور ایک نوجوان لڑکی کے ساتھ سفر کرنے والی دوسری فیملی سے بھی پوچھ گچھ کی، اس کے بارے میں خواتین کے ختنے کا شبہ تھا۔ منگل کو طیاروں کے اترتے ہی بارڈر فورس اور میٹروپولیٹن پولیس کے افسران نے چیرٹی ورکرز اور رضاکاروں کے ساتھ ہی جبری شادیوں اور دیگر ضرر رساں سرگرمیوں پر مجبور کرنے اور ان کا شکار بننے والوں کا پتہ چلانے کیلئے مسافروں سے رابطہ کیا،
London; Police are launching the first ever national crackdown on forced marriage at a number of airports as the school holidays get underway.
Officers from across England and Wales and the Border Force will join together in a national week of intensification (15 – 19 July) dubbed Operation Limelight. Partners like social services, the health service and charities are also involved and will be assisting police.
Limelight will focus on flights connecting the UK to destinations where there is a high prevalence of forced marriage. Tactics will include educating airport and airline staff to spot the signs and increase their confidence in reporting suspicious activity to police. Intelligence will be used to identify and seek victims who are about to leave or have just arrived back in the UK.