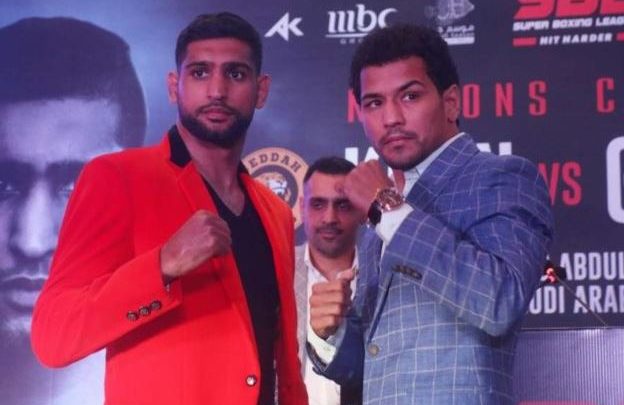 عالمی شہرت یافتہ پاکستانی نژاد باکسر عامر خان آف کہوٹہ بھارتی باکسر نیراج گویت سے مقابلہ کریں گے۔ دونوں باکسروں کے درمیان مقابلہ سعودی عرب میں 12جون کو ہوگا۔ اس بات کا اعلان کراچی کے مقامی ہوٹل میں منعقدہ گرینڈ پریس کانفرنس کے دوران کیا گیا۔
London; Boxing icon and global sporting phenomenon Amir Khan of mator, Kahuta, will make history when he goes up against the formidable Neeraj Goyat in a fight taking place in the Kingdom of Saudi Arabia on Friday, 12th July 2019.
Addressing a crowded press conference in here on Friday, the two-time world champion "King" Khan from Bolton, England, of Pakistani heritage announced that he will face India's national boxing hero Neeraj Goyat, the WBC Asian Champion, in a massive showdown with a world title on the line. Both fighters will be exchanging blows, vying for World Boxing Championship (WBC) Pearl Belt.