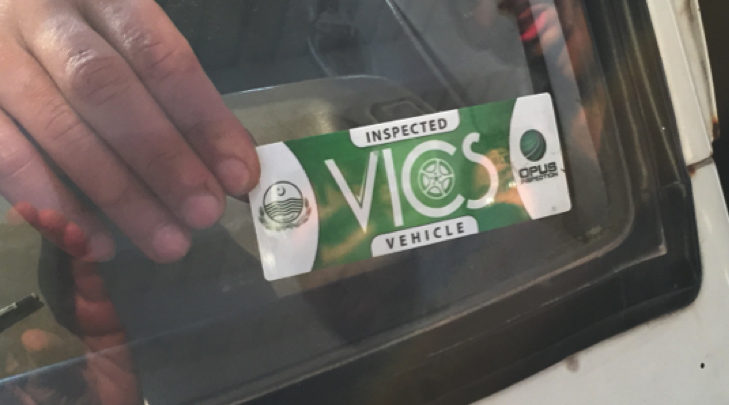 راولپنڈی میں گاڑیوں کی فٹنس سرٹیفکیشن کا جدید نظام  فعال کر دیا گیا،عشروں پرانے وہیکل انسپکشن سسٹم کو ماڈرن نظام سے ہم آہنگ ورکشاپس روات اور پیر ودھائی میں آپریشنل کی  گئ ہیں ۔ ریجنل ٹرانسپورٹ اتھارٹی راولپنڈی کے ذرائع نے اے پی پی کو بتایاکہ پنجاب حکومت نے مسافر اور مال بردار گاڑیوں کی فٹنس نجی کمپنی اوپس سے پاس کروانا لازم قرار دیا ہے ۔
جدید ترین سہولیات اور مشینری سے لیس وہیکل انسپیکشن سرٹیفکیشن سٹیشن نے  راولپنڈی میں کام شروع کر دیا ہے ۔ اوپس کو جدید ورکشاپ کے قیام کے لیے جی ٹی روڈ پر روات کے قریب اور پیرودھائی جنرل بس اسٹینڈ کے قریب جگہ فراہم کر دی گئی ہے جہاں پر وہیکل سرٹیفکیشن  فعال کر دیئے گئے ہیں ۔ذرائع نے اے پی پی کو بتایاکہ اوپس نامی نجی سویڈش فرم پنجاب بھر کے تمام 36اضلاع میں 39 جدید وہیکل انسپیکشن سرٹیفکیشن سٹیشن قائم کر ے گی جہاں پر کمرشل مال بردار اور مسافر گاڑیوں کی فٹنس جدید ترین اصولوں کی روشنی میں اعلیٰ ٹیکنالوجی کے ذریعے کی جائے گی اور صرف مطلوبہ معیار کی حامل گاڑیوں کو فٹنس سرٹفکیٹ فراہم کیاجائے گا ۔
Rawalpindi : A new vehicle inspection certification station (VICS) installed at Rawat, GT Road has started issuing fitness certificates to commercial vehicles in passenger and freight sector.
According to Regional Transport Authority (RTA) official, the Punjab government had made mandatory for commercial vehicles in passenger and freight sector to pass fitness test of an OPUS Inspection, a Swedish firm which started its operation here on May 20. Opus Inspection, the Swedish firm, was establishing 39 Vehicle Inspection and Certification Stations (VICS) in all 36 districts of the province.
Stations had already been made operational in Lahore, he added. Motor Vehicle Examiner officers of Rawalpindi were directed by Punjab Transport Authority to cease issuance of Fitness Certificates to Transport Vehicles with immediate effect.
According to the new system, buses, vans, cabs, trolleys and trucks will be issued VICS certificate after alignment inspection, brake inspection, visual inspection, vehicle suspension verification, headlight inspection, emission inspection and vehicle noise inspection.
The transport department had set Rs1080 inspection fee for transport vehicle, Rs 720 for each delivery van and motor cab, rickshaw and motorcycle rickshaw; whereas, the renewal fee after six months will be charged Rs540 for HTV and LTV, and Rs450 for delivery van, motor cabs and auto rickshaws.