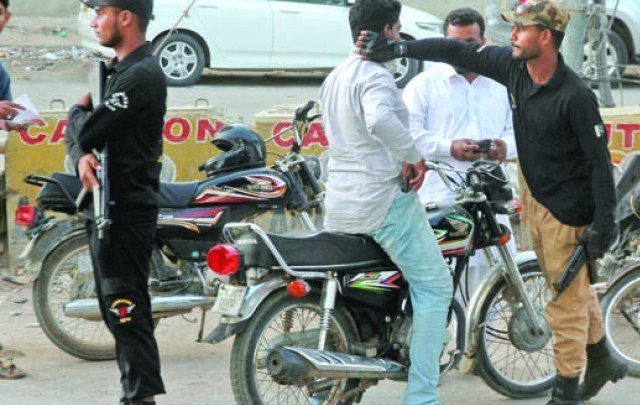 ضلعی حکومت کی درخواست پر پنجاب گورنمنٹ نے ضلع راولپنڈی میں سٹریٹ کرائم اور دیگر جرائم کی روک تھام کے پیش نظر دفعہ 144نافذ کرتے ہوئے موٹر سائیکل کی ڈبل سواری پر21مئی سے دوہفتوں کے لئے پابندی عائد کر دی ہے پابندی کا اطلاق روزانہ شام 7بجے سے صبح 7بجے تک ہو گا۔ سٹی ٹریفک پولیس کی جانب سے منگل کی رات جاری کی گئی پریس ریلیزمیں کہاگیاہے ڈبل سواری پر لگائی گئی پابندی پرعمل درآمدکرانے کے لئے سکواڈتشکیل دے دئیے گئے ہیں۔ اس حوالے سے چیف ٹریفک آفیسر راولپنڈی محمد بن اشرف نے بتایاکہ اس سلسلے میں راولپنڈی ٹریفک پولیس کے خصوصی سکواڈ تشکیل دے دیئے گئے ہیں جو موٹر سائیکل پر ڈبل سواری کی پابندی کی خلاف ورزی کرنے والے سواروں کے خلاف قانونی کارروائی عمل میں لائیں گے اورایسے موٹر سائیکل تھانوں میں بند کر دئیے جائیں گے
Rawalpindi – Punjab Home Department imposed a ban on pillion riding in the district in order to curb street crime, according to a notification issued here on Tuesday. Pillion riding has been banned in Rawalpindi district for period of 2 weeks (21 May to June 4) from 7pm to 7am, reads the nonfiction.
However, the ban shall not be applicable to women, children below the age of 12 years, senior citizens, journalists, law enforcement personnel in uniforms and employees of essential services. A senior police officer said that ban on pillion riding had been imposed in the light of recommendation of Deputy Commissioner Rawalpindi Chaudhry Ali Randhawa who had reported to Home Department that a dangerous surge had been noticed in the street crime in the district and a ban should be imposed on pillion riding as most of the criminals used motorcycles to target the citizens. He added that the Additional Chief Secretary (Home), Punjab, while taking action, slapped ban on pillion riding in the district for two weeks to control street crime wave.