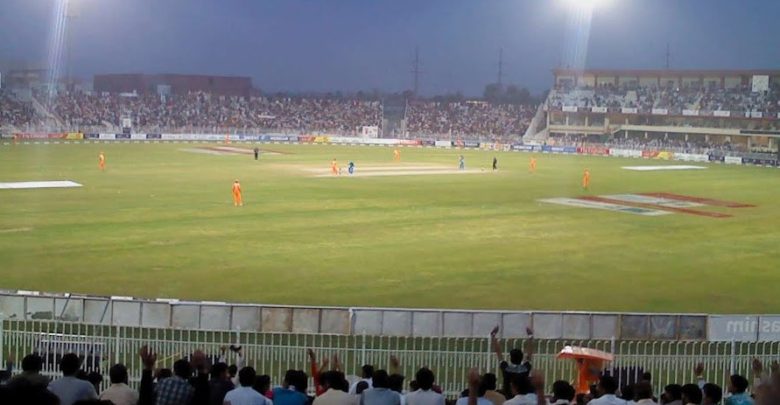 کہوٹہ : نمائندہ پوٹھوہار ڈاٹ کام,عمران ضمیر–راولپنڈی ڈسٹرکٹ کرکٹ ایسوسی ایشن کے چیئرمین جنرل (ر) ابصار کی زیر صدار ت راولپنڈی میں پہلا تاریخی اجلاس۔میرٹ پر کرکٹ کے فروغ پر نوجوان کھلاڑیوں میں خوشی کی لہر دوڑ گئی ۔ ممبران راولپنڈی ڈسٹرکٹ کرکٹ ایسوسی ایشن کرنل (ر) وسیم جنجوعہ اور کرنل (ر) ہاشمی سمیت سینکڑوں کی تعداد میں ضلع بھر سے پہلی مرتبہ کرکٹ کلبوں کے عہدیداران ، صدر ،کوچز اور کھلاڑیوں کی بھر پور شرکت ۔ (40) سالوں کے دوران پہلی مرتبہ ضلعی سطح پر کرکٹ کلبوں کو جمع کر کے میٹنگ کرنے پر شرکاء کا زبردست خراج تحسین اس موقع پر چیئرمین و ممبران راولپنڈی ڈسٹرکٹ کرکٹ جنرل (ر) ابصار ، کرنل (ر) وسیم جنجوعہ اور کرنل (ر) ہاشمی نے اپنے خطاب میں کہا کہ ضلع راولپنڈی میں پاکستان کرکٹ بورڈ کرکٹ سے سیاست کو پا ک کرے گا ۔ سفارش سے ہٹ کر میرٹ پر ٹیلنٹ کو سامنے لائیں گے ۔ جلد ڈسٹرکٹ سطح کی چیمپیئن شپ کرائی جائے گی ۔ اس موقع پر کرکٹ کلب کے عہدیداران نے اپنی اپنی تجاویز بھی دیں اور کہا کہ راولپنڈی شہر کے ساتھ ساتھ ضلع راولپنڈی کی تحصیلوں کہوٹہ ، کلرسیداں ، گوجر خان ، کوٹلی ستیاں ، مری ، ٹیکسلا سے کرکٹ کے کھلاڑیوں اورٹیلنٹ کو سامنے کایا جائے گا ۔ ضلع راولپنڈی کی کرکٹ کو سیاست سے پاک کر کے دم لیں گے ۔ انہوں نے مزید کہا کہ ضلع راولپنڈی میں ٹیلنٹ کی کمی نہ ہے ۔ بلکہ ایسے کھلاڑیوں کو میرٹ پر سفارش کے بغیر سامنے لائیں گے ۔ اس موقع پر چیئرمین اور ممبران نے اجلاس میں بتایا کہ تمام کلب اپنی رجسٹریشن مکمل کروائیں اور اپنی فیسیں کلیئر کریں اور سکرونٹی بھی کرائیں ۔اس موقع پر کرکٹ کلب کے عہدیداران نے کہا کہ (40) سالوں کے دوران پہلی مرتبہ ضلع راولپنڈی میں عملی طور پر کرکٹ کلبوں اور کھلاڑیوں کا اجلاس منعقد کیا گیا ۔ کرکٹ کو سیاست سے پاک کر نے اور میرٹ پو بغیر کسی دباؤ اور سفارش کے کھلاڑیوں اور کلبوں کی سکرونٹی اور کھیلوں کے مواقع فراہم کرنے پر تمام کھلاڑیوں ، کلبوں اور شرکاء میں خوشی کی لہر دوڑ گئی ۔ چیئرمین جنرل (ر) ابصار نے کہا کہ کرکٹ کو مافیا اور سیاسی اثر ورسوخ سے آزاد کرائیں گے ۔
Kahuta; The Chairman Rawalpindi District cricket association Gen (r) Al Bisar held a meeting which included members District cricket association Col (r) Wasim Janjua and Col (r) Hashmi. At the meeting it was declared that talent from Pothwar region of Kahuta, Kallar Syedan, Gujar Khan, Kotli Sattian, Muree and Taxila to be brought forward and in the meeting it was stressed that no political games are being played and players must be given chance on merit.
---
کنگ بیکر تھانہ روڈ پر کام کرنے والا شخص بجلی کی تاروں سے کرنٹ لگنے سے جان بحق
Staff member at King Bakers dies in electric shock incident
کہوٹہ : نمائندہ پوٹھوہار ڈاٹ کامکنگ بیکر تھانہ روڈ پر کام کرنے والا شخص بجلی کی تاروں سے کرنٹ لگنے سے جان بحق۔ تفصیلات کے مطابق کنگ بیکر پر کام کرنے والاغریب گھرانے کا نوجوان صیف اللہ ولد اورنگزیب ساکن منیند بجلی کی ہائی وولٹیج کی تاروں کی زد میں آ کر زندگی کی بازی ہار گیا ۔نعش کو تحصیل ہیڈ کواٹر ہسپتال منتقل کیا گیا ۔بعدازاں نعش کو ورثاء کے حوالے کر دیا گیا ۔اچانک موت کی خبر کا سن کر گھر میں کہرام مچ گیا ۔
Kahuta; Saif Ullah of village Muneend who worked at King baker died ,when he touched high voltage electric wires.