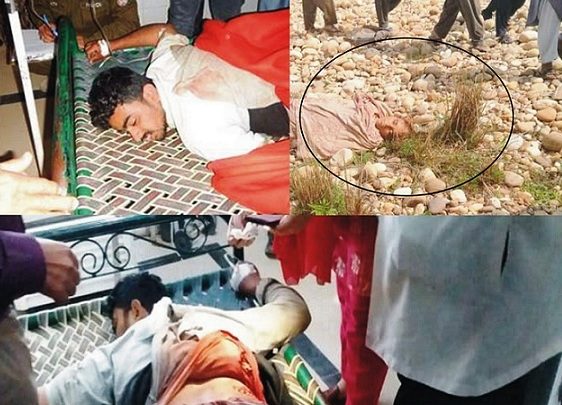 مٹور :نمائندہ پوٹھوار ڈاٹ کوم کبیر احمد جنجوعہ سے ۔۔۔۔
کہوٹہ کے علاقہ میرا مٹور میں قتل کی لرزا خیز واردات میں 55سالہ عورت کو آتشیں اسلحہ سے فائرنگ کر کے قتل کر دیا۔بیٹا شدید زخمی ہو گیااطلاع ملتے ہی تھانہ کہوٹہ سردار ذوالفقار احمد بھی موقع پر پہنچ گے اپنی نگرانی میں ڈیڈھ باڈی کو ٹی ایچ کیو کہوٹہ لایا گیا ۔وجہ عناد پرانی دشمنی بتائی جاتی ہے ۔تفصیل کے مطابق تحصیل کہوٹہ کی یونین کونسل مٹور کے علاقہ میرا میں ایک واقع کے دوران محمد ندیم ولد اصغر خان نے آتشیں اسلحہ سے فائرنگ کر کے55۔60سالہ عورت افناز بی بی کو قتل کر دیا جبکہ اسی حادثے میں فائرنگ کی وجہ سے اس کا جوانسالہ بیٹا عمار شدید زخمی ہو گیا حادثے کی اطلا ع ملتے ہی ایس ایچ او تھانہ کہوٹہ سردار ذوالفقار احمد ،ایس آئی سردار عنصر اور دیگر ملازمین موقع پر پہنچ گے اور اپنی نگرانی میں ڈیڈ ھ باڈی اور زخمی کو کہوٹہ منتقل کیا ۔اس حادثے کی وجہ عناد پرانی دشمنی بتائی جا رہی ہے ۔
Kahuta; Afnaz Bibi, 55, of village Maira Mator has been shot dead while her son also shot is fighting for his life in hospital. The man who shot the pair has been named Mohammad Nadeem son of Asghar Khan. It is believed the murder was committed over long running feuded.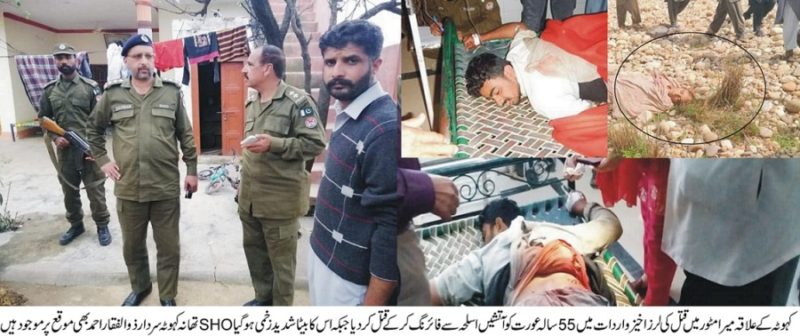 یوسی بیور کے علاقہ کھلو ل کے رہائشی راجہ زمرد کو سپرد خاک کر دیا گیا
Raja Zamurad passed away in village Khalol, UC Bior
یوسی بیور کے علاقہ کھلو ل کے رہائشی راجہ زمرد کو سپرد خاک کر دیا گیا ان کی نمازے جنازہ ان کے آبائی گاؤں کھلول میں ادا کیا گیا نمازے جنازہ میں پاکستان تحریک انصاف کے رہنماء صوبائی پارلیمانی سیکرٹری جیل خانہ جات راجہ صغیر احمد ، مسلم لیگ ن یوتھ ونگ تحصیل کہوٹہ کے صدر رفاقت جنجوعہ ،چیئرمین یونین کونسل بیورراجہ فیاض ، وائس چیئرمین سردار طاہر محمود،وائس چیئرمین یوسی مٹورراجہ شیر بہادر، مسلم لیگ ن تحصیل کہوٹہ کے صدر راجہ محمد بشیر ،فوکل پر سن محکمہ جنگلات سردار ایم رضاء ، راجہ محمد یوسف آف بیور ،راجہ ثقلین آف ممیام، راجہ ظہور آف گوڑہ راجگان ،جنرل کونسلر راجہ سجاد ، جنرل کونسلر راجہ حسنین ،جنرل کونسلر راجہ عبا س پپو ،ماسٹر آصف القادری ،راجہ کلیم آف سویڑی ،حاجی منشی ریاض آ ف بیور ،صحافی سردار محمد قاسم آف بیور ،ساہیں عابد آف جیوڑہ، ممبر پریس کلب کہوٹہ کبیر احمد جنجوعہ سمیت کثیر تعداد میں سیاسی وسماجی شخصیات شریک ہیں ۔

وزیر اعظم پاکستان عمران خان عوام کی امید و ں پر پورا اتریں گے ۔
PM Imran Khan will fulfil wishes of the nation 
پاکستان تحریک انصاف حلقہ پی پی سیون کے رہنماء حاجی محمد جاوید آف جسوالہ نے اپنے ایک بیان میں کہا کہ وزیر اعظم پاکستان عمران خان عوام کی امید و ں پر پورا اتریں گے ۔کریشن کے گڑھ کا خاتمہ کیا جا ئے گا عوام کے تمام مسائل حل کر یں گے ۔تمام سابقہ حکمران مل کر بھی ہمارے قائد کا کچھ نہیں کر سکتے ملک عوام قائد تحریک انصاف وزیر اعظم پاکستان عمران خان کے ساتھ ہیں انشاء اللہ حکومت کی مثبت پالیسوں اور اقدامات کے نتیجے میں عوام کو جلد بڑھے ریلیف ملیں گے ان خیالات کا اظہار پاکستان تحریک انصاف ایم سی کلر سیداں کے نائب صد ر معروف سیاسی وسماجی شخصیت حاجی محمد جاوید آف جسوالہ نے کہوٹہ کے اپنے ایک دورے کے موقع پر میڈیا کے نمائندوں سے گفتگو کرتے ہوئے کیا اس موقع پر انہوں نے کہا کہ وزیر اعظم اسلامی جہموریہ پاکستان عمران خان نے الیکشن مہم میں ملک کی عوام کے ساتھ جو بھی وعدے کیے انشاء اللہ پورے ہونگے انہوں نے ملک کی عوام کو ایک مثبت سوچ دی جس کے نتیجے میں عوام کی عوام نے الیکشن 2018میں اپنی ووٹ کا صیح استعال کرتے ہوئے پاکستان تحریک انصاف کو اپنا ووٹ دیا جس نتیجے میں ملک کی عوام کو کرپٹ حکمرانوں سے چھٹکارا ملا اور ایک صاف ستھری حکومت ملک میں قائم ہوئی انہوں نے کہا کہ ملک عوام قائد تحریک انصاف وزیر اعظم پاکستان عمران خان پر مکمل اعتماد کا اظہار کرتے ہیں اور ان کے ساتھ کھڑے ہیں انشاء اللہ حکومت کی مثبت پالیسوں اور اقدامات کے نتیجے میں عوام کو جلد بڑھے ریلیف ملیں گے ۔