Headline
Kallar Syedan
DailyNews
Kallar Syedan; Three arrested for armed robbery committed in village Manjhar, union council Samot
یوسی سموٹ کے نواحی منجھاڑ گاؤں میں ڈکیتی کی واردات میں ملوث چھ ملزمان میں سے تین ملزمان گرفتار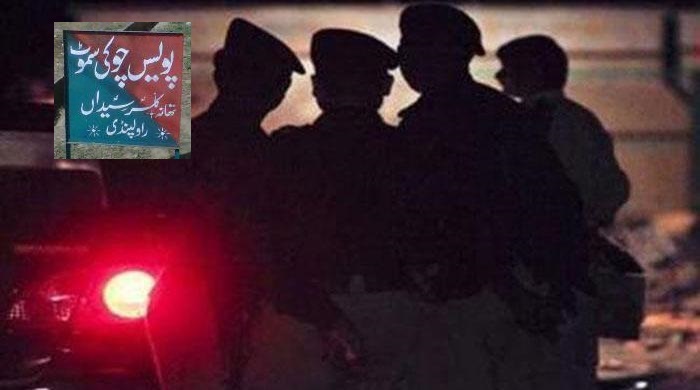 کلر سیداں پولیس نے ایک ماہ قبل کلر سیداں کی یوسی سموٹ کے نواحی منجھاڑ گاؤں میں ڈکیتی کی واردات میں ملوث چھ ملزمان میں سے تین ملزمان کو گرفتار کر کے ان سے مسروقہ مال برآمد کر لیا۔ڈکیتی کی واردات میں مرکزی ملزم مدعی محمد یونس کا حقیقی بھانجا نکلا جس نے اپنے ساتھی ملزمان سے اپنے حصے کے 14 ہزار روپے وصول کئے۔تھانہ کلر سیداں پولیس کے سب انسپکٹر ظفرگوندل نے کلر سیداں میڈیا کو بتایا کہ 7 فروری کی شب یونین کونسل سموٹ کے علاقہ منجھاڑی گاؤں کے رہائشی محمد یونس کے گھر چھ کے قریب نامعلوم مسلح نقاب پوش داخل ہوئے اور اہل خانہ کو ایک کمرے میں بند کر کے کمروں کی تلاشی کے دوران لاکھوں روپے کی نقدی سمیت طلائی زیورات،موبائل فونز،مدعی کا لائسنسی اسلحہ سمیت دیگر قیمتی سامان لوٹ کر فرار ہو گئے تھے جس پر پولیس نے اپنی پیشہ ورانہ صلاحیتوں کو بروئے کار لاتے ہوئے مدعی کے حقیقی بھانجے محمد یسین کو حراست میں لے کر تفتیش کی تو اس نے سب کچھ اگل دیا اور واردات میں ملوث دیگر ملزمان کے نام بھی بتا دہئے جس پر پولیس نے جہانگیر خان سکنہ کھجوری(جبر)،عابد حسین سکنہ ڈھوک دلالی (کاہلی دھمنوہا)کو گرفتار کر لیا اور دوران تفتیش ملزمان سے مسروقہ مال بھی برآمد کر لیا جبکہ دیگر تین ملزمان کی گرفتاری کیلئے چھاپے مارے جا رہے ہیں۔
Kallar Syedan; Three armed gang out of six have been arrested for armed robbery committed in village Manjhar, union council Samot at the residence of Mohammad Younis.
The amazing revelation was the main player in the armed robbery was Mohammad Younis's own nephew Mohammad Yasin along with his accomplices Jhangir Khan of village Khajori, Jabber, Abd Hussain of Dhok Dalali, Kahli Dhamnoa.
The three man have been detained and stolen goods and been recovered in their possession, police are hunting further three men who were also involved in the robbery.
کلر سیداں کے عوامی حلقوں نے کلر سیداں شہر کے علاوہ درجنوں مضافاتی بستیوں پر پراپرٹی ٹیکس کے نفاذ پر شدید غم و غصے کا اظہار
Anger amongst property owners over tax being enforced 
کلر سیداں کے عوامی حلقوں نے کلر سیداں شہر کے علاوہ درجنوں مضافاتی بستیوں پر پراپرٹی ٹیکس کے نفاذ پر شدید غم و غصے کا اظہار کرتے ہوئے اسے عوامی مفادات کے منافی قرار دیا۔انہوں نے کہا کہ گزشتہ دور حکومت میں بھی کلر سیداں میں اس ٹیکس کے نفاذ کی کوشش کی گئی تھی جو سابق وفاقی وزیر چوہدری نثار علی خان کی مداخلت پر ناکام بنا دی گئی تھی مگر اب موجود حکومت میں محکمہ ایکسائز نے کلر سیداں میں اس کا نفاذ کر دیا ہے اور اس میں کلر سیداں شہر کے علاوہ میلوں دور کے وہ پسماندہ علاقے بھی شامل ہیں جنہیں کوئی بھی بنیادی سہولت میسر نہیں اور انہیں بھی بلدیہ کلر سیداں کی حدود میں ہونے کی سزا دی گئی ہے ۔محکمہ ایکسائز نے سروے مکمل کرنے کے بعد لوگوں کو چھ چھ ماہ کے بھی لاکھوں روپے کے واجبات جمع کرانے کا نوٹس دیا ہے شہریوں نے اس صورتحال پر شدید غم و غصے کا اظہار کرتے ہوئے اسے کلر سیداں کے خلاف سازش قرار دیا اور کہا کہ پراپرٹی ٹیکس کو کہوٹہ اور کوٹلی ستیاں کو نظر انداز کر کے کلر سیداں پر اس کا نفاذ گہری سازش ہے جس کے خلاف شہری ہر ممکن راست اقدام کریں گے ۔انہوں نے کلر سیداں کے ارکان اسمبلی سے عوامی مفاد کے منافی اس اقدام کا فوری نوٹس لینے کا مطالبہ کیا ہے۔
مقامی صحافی قیصر اقبال ادریسی عمرے کی سعادت حاصل کر کے وطن لوٹ آئے
Journalist Qaiser Idreesi returns after performing Umrah
مقامی صحافی قیصر اقبال ادریسی عمرے کی سعادت حاصل کر کے وطن لوٹ آئے ہیں ان کے عزیز و اقارب اور دوستوں نے انہیں نیو اسلام آباد ائر پورٹ پر خوش آمدید کہا۔
تعزیت
کلر سیداں کے صحافیوں چوہدری عامر کمبوہ ،راجہ محمد سعید، اکرام الحق قریشی ، جاوید اقبال،شیخ شبیر ثانی اور دیگر نے غربی گوجرخان کے صحافی سید منور نقوی سے ان کی والدہ محترمہ کی وفات پر دلی تعزیت کاا ظہار کیا ہے ۔