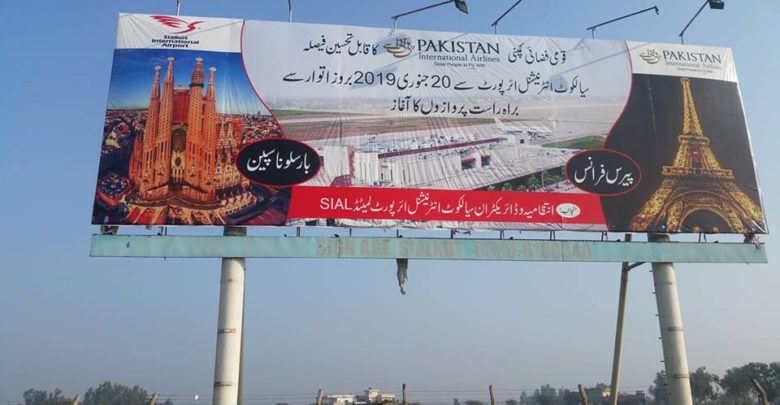 پی آئی اے کی یورپی کے ڈائریکٹ فلائیٹ سیالکوٹ ائیر پورٹ کا باقاعدہ آغا ز 19/20جنوری کو ہو گا ۔پی آئی اے کی طرف سے فرانس اٹلی اور سپین کے لئے پی آئی اے نے ڈائریکٹ فلائیٹ شروع کرنے جا رہی ہے ،جس کے لئے فرانس ،بارسلونا ،اور میلان سے ٹکٹوں کی سیل بھی شروع کر دی گئی ۔پی آئی اے کی ڈائریکٹ یورپ سے سیالکوٹ پہنچے والی فلائیٹ سے معیشت پر مثبت اثرات مرتب ہو ں گے ۔ادھر یورپ سے فلائیٹ سیالکوٹ تو پہنچنا شروع ہو گئی ہیں ادھر شہباز پور پل کی تعمیر تاحال نا مکمل ہے ۔جس کی وجہ سے گجرات ،بھمبر ۔کھاریاں ۔منڈی بہاو الدین کے عوا م کو براستہ وزیر آباد ہی سفر کرنا پڑے گا ۔
France; The Pakistan International Airlines (PIA) has announced to start international passenger flights from Sialkot International Airport to Europe from January 20, 2019, which will also benefit Islamabad commuters.
Sialkot International Airport Limited (SIAL) Nadeem Anwar Qureshi disclosed this while presiding over an important meeting of the SIAL's Board of Directors held on Thursday.
He said that both PIA and SIAL have already made all the necessary arrangements for starting PIA's direct international flights between Sialkot-Pakistan and Europe as well.
SIAL Chairman added that PIA will start its direct international passenger flight from Sialkot international airport to Paris-France and Barcelona-Spain and other European countries once a week. He said the number of these flights to European countries would soon be increased.
Nadeem Anwar Qureshi revealed that the success of Sialkot international airport has also been building the trust and confidence of the foreign airlines as well.