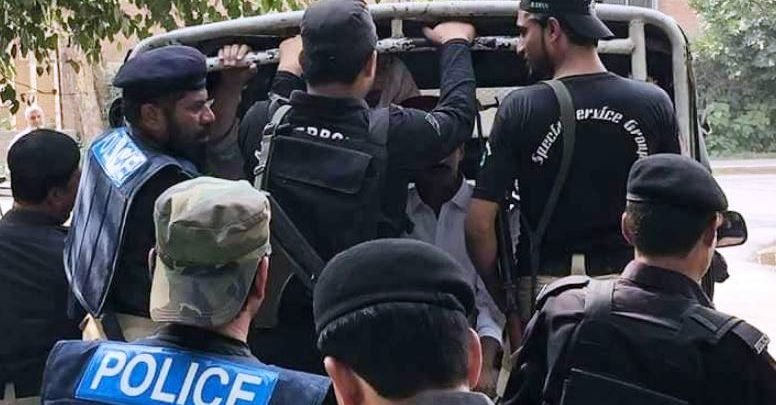 کلر سیداں کے نواحی گاؤں میانہ موہڑہ میں گرفتار ملزم کی نشاندہی پر آلہ ضرب کی برآمدگی کے لئے جانے والی پولیس پارٹی پر ملزمان کی فائرنگ
کلرسیداں:(نمائندہ پوٹھوار ڈاٹ کوم,اکرام الحق قریشی)—کلر سیداں کے نواحی گاؤں میانہ موہڑہ میں گرفتار ملزم کی نشاندہی پر آلہ ضرب کی برآمدگی کے لئے جانے والی پولیس پارٹی پر ملزمان کی فائرنگ سے پولیس کے زیر حراست ملزم حسن نواز زخمی ہو گیا اسے راولپنڈی منتقل کر دیاگیا پولیس کے مطابق وہ گرفتار ملزم حسن نواز کے ہمراہ پستول کی بازیابی کے لیئے میانہ موہڑہ آئی تھی ملزم کی نشاندہی پر پستول برآمدگی کے بعد 04 نامعلوم ملزمان آئے دو موٹر سائیکلوں پر سوار آئے اور پولیس پارٹی کو دیکھتے ہی فائرنگ کردی،فائرنگ کے تبادلے کے دوران گرفتار ملزم حسن نواز زخمی ہوا۔اسے ٹی ایچ کیو کلر سیداں سے راولپنڈی منتقل کر دیا گیا واقعے کی خاص بات یہ ہے کہ ملزم حسن نواز نے گزشتہ ماہ تھانہ کلر سیداں میں تعنیات پولیس کنسٹیبل حسنین اشفاق کو فائرنگ کر کے زخمی کیا تھاحالیہ واقعے میں یہ بھی زخمی ہوا اور گولی اس کے ٹخنوں پر لگی مقامی حلقے پولیس کی رپورٹ پر شدید تحفظات کا اظہار کرتے پائے گئے۔زخمی ملزم کے لواحقین نے بھی عدالت سے رجوع کرنے کا فیصلہ کیا ہے پولیس کے اس عمل میں کلر سیداں پولیس کے علاوہ ایلیٹ فورس کے اہلکار بھی شامل تھے۔
Kallar Syedan; According to police, the accused Hassan was arrested and being transferred to Rawalpindi. After the pistol was recovered on the identification of the accused, 04 unidentified accused came on two motorcycles and opened fire on the police party. The accused Hassan Nawaz was injured during the exchange of fire. He was shifted from THQ Kallar Syedan ​​to Rawalpindi. The highlight of the incident is that accused Hassan Nawaz shot and injured police constable Hasnain Ashfaq posted at Kallar Syedan ​​police station last month. He was also injured and shot in the recent incident. Local circles were found expressing serious concerns over the police report. The relatives of the injured accused have also decided to approach the court. Apart from Kallar Syedan ​​police, elite force personnel were also involved in the police operation.
معمر خاتون کنویں میں گر کر جاں بحق ہو گئی۔یہ افسوس ناک واقعہ یونین کونسل چوآ خالصہ کے نواحی علاقہ ڈھوک گیدر میں پیش آیا
An elderly woman fell into a well and died. The tragic incident took place in Dhok Ghadar area of UC Choa Khalsa.
کلرسیداں:(نمائندہ پوٹھوار ڈاٹ کوم,اکرام الحق قریشی)— 70سالہ معمر خاتون کنویں میں گر کر جاں بحق ہو گئی۔یہ افسوس ناک واقعہ یونین کونسل چوآ خالصہ کے نواحی علاقہ ڈھوک گیدر میں پیش آیا جہاں مسماۃ (ع) بیگم جس کا دماغی توازن درست نہ تھا اچانک گھر سے غائب ہو گئی اور گھر سے باہر واقع ایک کنویں میں جا گری۔گھر سے اچانک لاپتہ ہو جانے پر اہل خانہ کو تشویش لاحق ہوئی اور کافی تلاش بسیار کے بعد جب کنویں میں جھانک کر دیکھا تو اس کی نعش تیر رہی تھی جسے بعد ازاں مقامی لوگوں کی مدد سے اسے باہر لیا گیا۔اطلاع ملتے ہی تھانہ کلر سیداں پولیس کے اے ایس آئی رخسار تعلیم موقع پر پہنچ گئے اور ضابطہ کی کارروائی مکمل کرنے کے بعد نعش کو دفنانے کی اجازت دے دی۔
مسلم لیگ ن کے صدر میاں شہباز شریف کی کلر سیداں کے ایک وفد سے ملا قات
PML-N President Mian Shahbaz Sharif meets a delegation from Kallar Syedan
کلرسیداں:(نمائندہ پوٹھوار ڈاٹ کوم,اکرام الحق قریشی)—مسلم لیگ ن کے صدر میاں شہباز شریف نے کہا ہے کہ حکومت ہمارا مقابلہ سیاسی میدان میں نہیں کر سکتی اسی لیئے یہ نیب اور دیگر اداروں کو اپوزیشن کے خلاف استعمال کررہی ہے عمران خان انتقام میں اندھے ہو چکے ہیں انہوں نے جتنی توجہ اپوزیشن کو انتقام کا نشانہ میں صرف کی اس سے کم وقت میں عوام کے مسائل کم کیئے جا سکتے تھے ان خیالات کا اظہار انہوں نے کلر سیداں کے ایک وفد سے گفتگو کرتے ہوئے کیا جس میں سابق رکن اسمبلی راجہ جاوید اخلاص کی قیادت میں ان سے لاہور میں ملاقات کی وفد میں سابق رکن اسمبلی افتخار احمد وارثی،محمد ظریف راجا،راجہ ندیم احمد،قاضی عبدالوقار کاظمی بھی شامل تھے جبکہ ملاقات میں اپوزیشن لیڈر حمزہ شہباز مسلم لیگ ن پنجاب کے صدر رانا ثناء اللہ بھی موجود تھے وفد نے انہیں رھائی پر مبارکباد دی۔ا س مو قع پر میا ں شہبا ز شر یف نے گفتگو کر تے ہو ئے کہا کہ حکو مت کوعو ا م کی کو ئی پر و ا ہ نہیں ا سے صر ف ا نتقا م کی پڑ ی ہو ئی ہے ا پو ز یشن کو چو ر ڈ ا کو کہنے کے بجائے عوامی مسائل پر توجہ دی جائے اپوزیشن کا مقابلہ نیب کے ذریعے انتقام لینے کے بجائے سیاسی میدان میں کیا جائے۔ ہم گھبرانے والے نہیں ہمیں ڈرایا دھمکایا نہیں جا سکتا۔