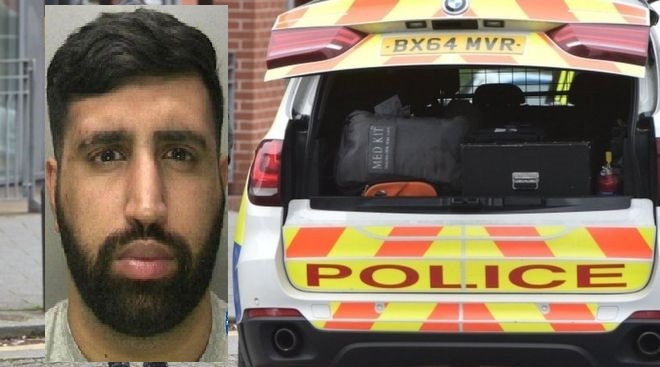 برطانیہ پاکستانی نژاد برطانوی شہری عدیل اشتیاق جو شرلی روڈ ہال گرین کا رہائشی ہے پولیس آفیسر کو کچل دیا پولیس نے مشکوک سمجھ کر روکا اور پولیس آفیسرز اس کی گاڑی کے اردگرد موجود تھے اور سوالات کر رہے تھے تب ملزم عدیل نے بھاگنے کی کوشش کی اور کار کے سامنے کھڑے پولیس آفیسر پر گاڑی چڑھا دی جس کے نتیجے میں پولیس آفیسر کے گھٹنے پر چوٹ آئی اور پولیس آفیسر کو تقریبا ایک سال ڈیوٹی چھوڑنی پڑی عدیل اشتیاق کو گرفتار کر لیا گیا اس کے قبضے سے چوری شدہ اشیاء بھی برآمد ہوئی جبکہ ملزم اس وقت ڈرائیونگ کے لیے ممنوع قرار دیا گیا تھا خطرناک ڈرائیونگ اور پولیس آفیسر کو کچلنے کے جرم میں ملزم عدیل کو پانچ سال دس ماہ کی سزا سنا دی گئی ملزم عدیل اس سے پہلے بھی ایک کیس میں ضمانت پر رہا تھا اس کیس میں ملزم نے آئرلینڈ سے ایک اووڈی گاڑی چرائی اور اس برمنگھم میں فروخت کرنے کی کوشش کی تھی جس ہر ملزم کو اس کیس میں دس سال کی سزا سنائی گئی تھی۔
Birmingham; A disqualified driver has been jailed for ramming into a police officer who had tried to stop him getting away.
Police noticed Aqeel Ishtiaq acting suspiciously near a Volkswagen Golf parked in Mill Lane in Solihull town centre on January 4 this year.
The 28-year-old walked towards the vehicle unlocking it remotely before walking away again, although when quizzed claimed he was not the driver.
However he returned to the vehicle and got in, at which point PC Spencer Lunn and other officers tried to stop him making off by surrounding the vehicle.
The officer, who was standing in front of the car, broke the Golf's windscreen with his baton but Ishtiaq drove forward. PC Lunn who collapsed in pain, suffered a serious injury to his knee as a result of being hit.
Ishtiaq, of Shirley Road, Hall Green, was jailed for five years and 10 months after he admitted dangerous driving, causing serious injury by dangerous driving, handling stolen goods and driving while disqualified. He was also banned from the roads for 10 years and 11 months.