DailyNews
London; Ex Chairman UC Bishondote M Zubair Kiyani deplores arrest of ex PM Shahid Khaqan Abbassi
سابق وزیراعظم شاہد خاقان عباسی کی گرفتاری بدترین انتقامی کاروائی ہے, یورپی ممالک کے دورے پر گئے ہوئے ,محمد زبیر کیانی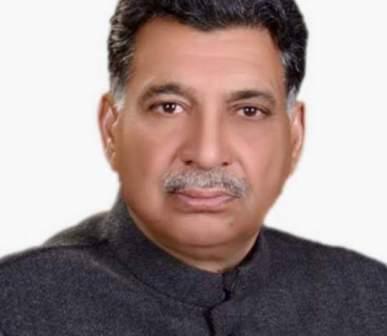 لندن / کلرسیداں (اکرام الحق قریشی) یورپی ممالک کے دورے پر گئے ہوئے مسلم لیگ ن کے رہنما سابق چیئرمین یوسی بشندوٹ محمد زبیر کیانی نے کہا ہے کہ سابق وزیراعظم شاہد خاقان عباسی کی گرفتاری بدترین انتقامی کاروائی ہے قوم اس طرح کی گرفتاریوں کو کبھی قبول نہیں کرے گی انہوں نے ہالینڈ سے جاری اپنے اخباری بیان میں کہا کہ شاہد خاقان عباسی اس باپ محمد خاقان عباسی کے فرزند ہیں کہ جب امریکہ نے ایف سولہ طیارہ نقد ادائیگیوں پر دینے کی شرط عائد کی تھی تو اس وقت کے صدر جنرل محمد ضیاالحق نے قرضے کے طور پر ادائیگی کرنے کی درخواست محمد خاقان عباسی سے کی جن کی ادائیگیوں کی بدولت ملک کا دفاع آج مظبوط ہوا بعد ازاں وزیراعظم محترمہ بے نظیر بھٹو نے شاہد خاقان عباسی کو ادہار رقم کی وصولی کے لئے خط ارسال کیا تو شاہد خاقان عباسی نے یہ کہ کر وہ رقم واپس لینے سے انکار کر دیا تھا کہ جس نے یہ رقم ملک کو ادہار دی تھی وہ اب اس دنیا میں نہیں رہے اور ہم لواحقین یہ رقم وصول نہیں کریں گے انہوں نے کہا کہ آصف علی زرداری نے صوبوں کو خودمختار بنایا ہم نے اس جیل میں ڈال دیا نوازشریف نے ایٹمی دہماکوں کے ذریعے ملکی دفاع کو ناقابل تسخیر بنایا شاہد عباسی نے انرجی بحران سے نجات دلائی ہم نے ان دونوں کی خدمات کا صلہ انہیں جیل میں ڈال کر دیا ہے یہ طرزعمل شرمناک ہے اداروں کو جمہوریت کنٹرول کرنے کی بجائے اپنی پیشہ وارانہ ذمہ درایوں پر توجہ مرکوز رکھنی چاہئیے سیاست کرنا سیاستدانوں کا کام ہے اور عوام ووٹ کے ذریعے ان کا احتساب خود کرتے ہیں۔
London; Ex Chairman Union council Bishondote,  Mohammad Zubair Kiyani deplored the arrest of ex PM Shahid Khaqan Abbassi. Mohammad Zubair Kiyani who is on tour of Europe speaking from Holland said these political arrests are revenge actions.
An accountability court granted on Friday the National Accountability Bureau (NAB) 13-day physical remand of former prime minister Shahid Khaqan Abbasi.
Abbasi was presented before the court by a NAB team. During the hearing today, NAB team requested accountability court Judge Mohammad Bashir for 14-day physical remand, local media reported. The court accepted the bureau's request and granted it physical remand of Abbasi till August 1.