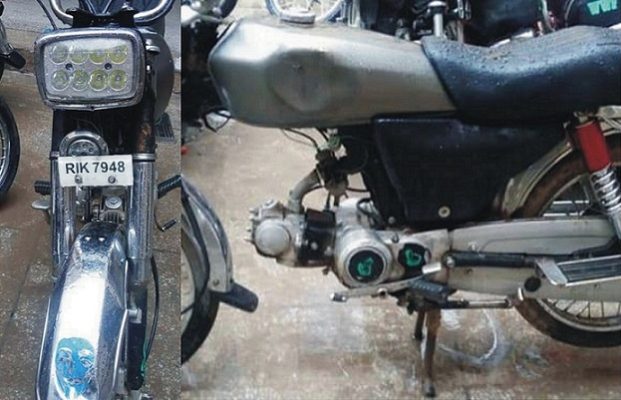 تیز رفتار موٹر سائیکل کی ٹکر سے بزرگ خاتون زخمی ۔شدید زخموں کی تاب ناں لاتے ہوئے اپنے مالک حقیقی سے جاملی ۔موٹر سائیکل والا بھاگ گیا ۔پولیس تھانہ کہوٹہ نے موٹر سائیکل اپنے قبضے میں لے لیا ۔تفصیل کے مطابق کہوٹہ کے علاقہ دھپری کے مقام پر تیز رفتار موٹر سائیکل    کو نامعلوم سوار چلا رہا تھا اس نے حاجرہ بی بی ساکن چھنگڑ ڈھوک لس کو ٹکر جاری کے نتیجے میں وہ شدید زخمی ہو گئی ان کو ٹی ایچ کیو کہوٹہ میں لایا گیا جہاں وہ زخموں کی تاب ناں لاتے ہوئے اپنے مالک حقیقی سے جا ملی ۔پولیس تھانہ کہوٹہ نے موٹر سائیکل اپنے قبضے میں لے لیا ۔
Kahuta; Haajra Bibi an elderly women from village Changar, Dhok Lass was hit by a speeding motorcyclist near Dhapri, Haajra Bibi was taken to THQ hospital but died.
The motorcyclist after hitting Haajra Bibi fled from the accident scene. Kahuta police have confiscated the motorbike and have registered police case and are searching for the motorcyclist.
رکن پنجاب اسمبلی راجہ صغیر احمدسے سردار ایم رضاء اور راجہ محمد یوسف کی قیادت میں یوسی بیور کے وفد کی ملاقات
Sardar M Raza and Raja M Yousif along with delegation meet with MPA Raja Sagheer Ahmed
رکن پنجاب اسمبلی راجہ صغیر احمدسے سردار ایم رضاء اور راجہ محمد یوسف کی قیادت میں یوسی بیور کے وفد کی ملاقات ۔ممبر صوبائی اسمبلی پنجاب حلقہ پی پی سیون راجہ صغیر احمد آف مٹور کو پارلیمانی سیکرٹری مقرر ہونے پردلی مبارکباد پیش کی ۔تفصیل کے مطابق گذشتہ روز یونین کونسل بیور سے ایک وفدجس کی قیادت فوکل پر سن محکمہ جنگلات سردار ایم رضاء امیدوار برائے چیئرمین یوسی بیور اور راجہ محمد یوسف امیدوار برائے وائس چیئرمین یوسی بیور نے کی جبکہ اس موقع پر سابق نائب ناظم یوسی بیور سردار شفاقت حسین،راجہ منصب دار ،طارق عباسی ،حاجی ظہور ،سردار قاسم اور دیگر افراد موجود تھے ۔سردار ایم رضاء اور راجہ محمد یوسف نے راجہ صغیر احمد کو صوبائی پارلیمانی سیکرٹری جیل خانہ جات مقرر ہونے پر دلی مبارکباد پیش کی اور میڈیا سے نمائندوں سے گفتگو کرتے ہوئے کہا کہ راجہ صغیر احمد کی کامیابی حلقے کی غریب عوام کی دعاؤں کا نتیجہ ہے ان کے والد محترم حاجی باواغلام فرید نے جس طرع اپنی زندگی عوام کی خدمت میں گزاری اسی طرع ان کے بیٹے MPAراجہ صغیراحمد عوام کی خد مت میں دن رات لگے ہوئے ہیں انہوں نے کہا کہ راجہ صغیر احمد نے الیکشن2013اور2018میں آزاد حثیت میں الیکشن لڑا بڑھے بڑھے سیاستدانوں کا مقابلہ کیا اللہ پاک نے ان کو کامیابی دی اور آج وہ عوام کی دعاؤں سے صوبائی پارلیمانی سیکرٹری جیل خانہ جات مقرر ہو گے انشااللہ ہم اہلیان علاقہ کل بھی راجہ صغیر احمد کے ساتھ تھے ہم آج بھی ان کے ساتھ ہیں اور انشاء اللہ آنے والے کل میں بھی ان کے ساتھ ہی ہوں گے ۔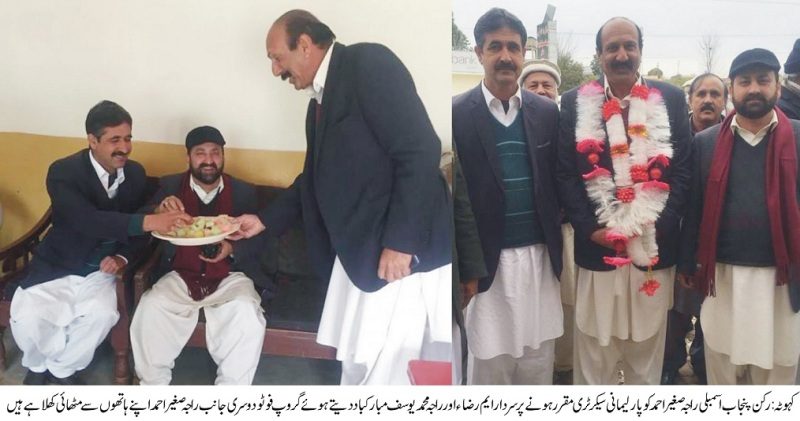 ڈاکٹر سجاد جنجوعہ کی اہلیہ اور راجہ سخاوت حسین ایڈوکیٹ کی بھابھی کو سپرد خاک کر دیا گیا۔ مرحومہ کی نمازے جنازہ ان کے آبائی گاؤں مواڑہ میں ادا کیا گیا
Wife of Dr Sajjad Janjua passed away in village Moawara 
ڈاکٹر سجاد جنجوعہ کی اہلیہ اور راجہ سخاوت حسین ایڈوکیٹ کی بھابھی کو سپرد خاک کر دیا گیا۔ مرحومہ کی نمازے جنازہ ان کے آبائی گاؤں مواڑہ میں ادا کیا گیا۔نمازے جنازہ میں چیئرمین یونین کونسل مواڑہ میجر عبد الروف جنجوعہ ،وائس چیئرمین یوسی مٹور فوکل پر سن محکمہ واپڈا راجہ توقیر المعروف راجہ شیر بہادر ، چیئرمین یونین کونسل مٹور راجہ اشتیاق ، مسلم لیگ ن کہوٹہ سٹی کے صدر ڈاکٹر محمد عارف قریشی ،مسلم لیگ ن یوتھ ونگ تحصیل کہوٹہ کے صدر راجہ رفاقت جنجوعہ ،چیئرمین ایم سی کہوٹہ راجہ ظہور اکبر ، وائس چیئرمین ملک غلام مرتضیٰ ،ممبر ایم سی کہوٹہ قاضی عبدالقیوم،ممبر ایم سی راجہ وحید احمد خان ،ممبر ایم سی مظہر اقبال بھٹی ایڈوکیٹ ، عبد الحمید قریشی،راجہ وسیم جنجوعہ آف مواڑہ ،راجہ ایاز جنجوعہ آف مواڑہ،راجہ خرم آف مٹور ،راجہ سہیل اسلم آف کلیاہ ،راجہ فیصل آف نوگراں ،راجہ سعید احمد گھڑیٹ،راجہ شاہد ممتاز پٹواری،راجہ شوکت المعروف راجہ شوکی مواڑہ ،راجہ خادم گہگاڑی،راجہ تنویر احمد آف مواڑہ ،راجہ ضیارب آف مواڑہ پوٹھوار ویلفیئر ٹرسٹ کے صدر حاجی ملک منیر اعوان ، ن لیگ کے خان نثار خان ،یوتھ ونگ کے عاصی جنجوعہ ، حامد لطیف ستی ،راجہ الطاف حسین آف مٹور ، ممبر پریس کلب کہوٹہ کبیر احمد جنجوعہ سمیت سیاسی ، سماجی ،مذہبی ، کاروبای شخصیات سمیت سینکڑوں افراد نے شر کت کی ۔