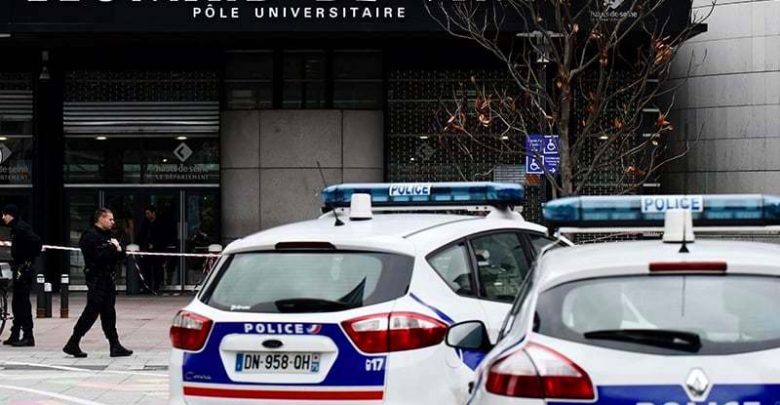 یونیورسٹی کے سابق طالب علم نے انگلش ٹیچر کو حلق میں چْھرا گھونپ کر قتل کیا،پولیس فرانس کے دارالحکومت پیرس میں یونیورسٹی کی خاتون پروفیسر کو چاقو سے قتل کرنے کے الزام میں ایک پاکستانی نوجوان کو گرفتار کرلیا گیا۔رپورٹ کے مطابق مشتبہ شخص نے پیرس کے نواحی علاقے میں یونیورسٹی کے باہر ایک خاتون ٹیچر کو قاتلانہ حملے میں ہلاک کردیا تھا، 66 سالہ مقتولہ مقامی یونیورسٹی میں انگلش پڑھاتی تھیں۔پولیس نے کہاملزم نے ٹیچر کے حلق میں چھرا گھونپ کر اسے قتل کیا۔ مشتبہ شخص اسی یونیورسٹی کا سابق طالب علم ہے جس میں مقتولہ پڑھاتی تھیں،
France; A Pakistani man was arrested Wednesday on suspicion of stabbing to death a teacher in broad daylight outside a university in the Paris suburbs.
The 66-year-old teacher, an Irishman who taught English, was stabbed repeatedly in front of the private Leonard-de-Vinci university in Courbevoie, northwest of Paris.
Higher Education Minister Frederique Vidal expressed "deep shock and anger" at a killing which has stunned students and staff at the university in the La Defense business district just outside the capital.
"It's a tragedy that has struck the whole community. This was a language teacher who had been here for 20 years and was respected by everyone," the university's director Pascal Brouaye told reporters.
A source close to the investigation said the teacher, who has not been named, was stabbed 13 times, including in the throat. He was declared dead at 12.35 pm, and a knife was found at the scene.
A police source said the suspect, who is in custody, was a former student at the university who was born in Pakistan in 1981 and was not previously known to police.
پیرس کی کاروباری شخصیت اپنے قریبی عزیز کے جنازے میں شرکت لے لیے پاکستان روانہ
Malik Wajhat departs for Pakistan after family member death in Pakistan

Paris; Malik Wajhat of village Dhkok Channi and Paris has departed for Pakistan for the namaz e janaza of his cousin Khurram Riaz who sadly passed away in Morra Sandhu.
فرانس بھر میں 'پیلی جیکٹ ' والوں کی مہم صدر ایمانیول مارکون کے مستعفی کے مطالبہ کے لئے جاری
Protest in France continue despite the government backing off
فرانس بھر میں 'پیلی جیکٹ ' والوں کی مہم صدر ایمانیول مارکون کے مستعفی کے مطالبہ کے لئے جاری ہے حکومت کی طرف سے پیٹرول کی منصوعات اور بجلی گیس کے بلوں میں اضافہ کافیصلہ مکمل طور واپس لینے کے اعلان کے باوجودتحریک جاری ہے گزشتہ روز 96 کالجوں کے باہر طلبا اور پولیس کے درمیان آنکھ مچولی اور جھڑپیں جاری رہیں۔آج برو ز ہفتہ پیرس کی معروف شاہراہ شانزلیز ے پر احتجاجی مظاہرے کی کال بھی دی گئی ہے اتوار کے روز کاشتکار بھی اس تحریک میں شامل ہونے کا اعلان کر چکے ہیں۔ واضح رہے گذشتہ تین ہفتے فرانس کے دارالحکومت پیرس سمیت دیگر شہروں میں 'پیلی جیکٹ' والے مظاہرین کی پولیس کے ساتھ شدید جھڑپیں، توڑ پھوڑ جلاو گھیراو کے نتیجہ میں حکومت نے پیٹرول کی منصوعات بجلی اور گیس پر عائد ٹیکس چھ ماہ روک دینے کے اعلان کے بعد یہ اضافہ ہمیشہ کیلئے ختم کرنے کا اعلان بھی کر چکی ہے وزیر اعظم ایڈوا فلیپ نے اعلان کیا کہ حکومت 'پیلی جیکٹ ' کے ساتھ مذاکرات کیلئے تیار ہے مگر تحریک صدر ایمانیوئل مکرون کے مستعفی ہونے تک ختم ہونے کی بجائے تیز ہوتی جارہی ہے سیاسی مبصرین موجودہ صورتحال کو انتہائی گمبیھر قرار دے رہے ہیں۔ جبکہ شانزلے لیزلے شاہراہ پر سیکورٹی انتہائی سخت کرتے ہوئے تقریباً 8ہزار اہلکار تعینات کردیئے گئے ہیں۔
ممبر قومی اسمبلی چوہدری حسین الہی سرکاری دورے پر سوئٹزرلینڈ کے شہر جنیوا پہنچے
MNA Ch Hassan Elahi given warm reception on his arrival in Switzerland 
گجرات سے نوجوان ممبر قومی اسمبلی چوہدری حسین الہی سرکاری دورے پر سوئٹزرلینڈ کے شہر جنیوا پہنچے تو یورپ کے مسلم لیگ ق کے عہدیداروں نے سابق ناظم چوہدری سعادت نواز اجنالہ کی قیادت میں جنیوا ائر پورٹ پر ان کا بھرپور استقبال کیا۔ بعد ازاں چوہدری حسین الہی نے یورپ کے مسلم لیگی عہدیداروں کے اعزاز میں جنیوا کے ایک مقامی ریستوران میں عشائیہ دیا۔ عشائیے کی تقریب سے خطاب کرتے ہوئے ممبر قومی اسمبلی چوہدری حسین الہی نے کہا کہ اوورسیز پاکستانی ملکی معیشت میں ریڑھ کی ہڈی کی حیثیت رکھتے ہیں ، پاکستان کے لئے ان کی خدمات اور قربانیاں قابل فخر ہیں۔ اوورسیز پاکستانیوں کے مسائل کے حل کے لیے ہر فورم پر آواز اٹھاؤں گا۔ انہوں نے مزید کہا کہ آپ لوگ بیرون ملک پاکستان کے سفیر ہیں اور پاکستان کا مثبت امیج اجاگر کرنے کے لئے آپ کی کوششیں قابل تحسین ہیں۔