Pothwar.com
Kallar Syedan
DailyNews
Kallar Syedan; Environment Department orders closure of all brick kilns in Rawalpindi division for next two months from November 7th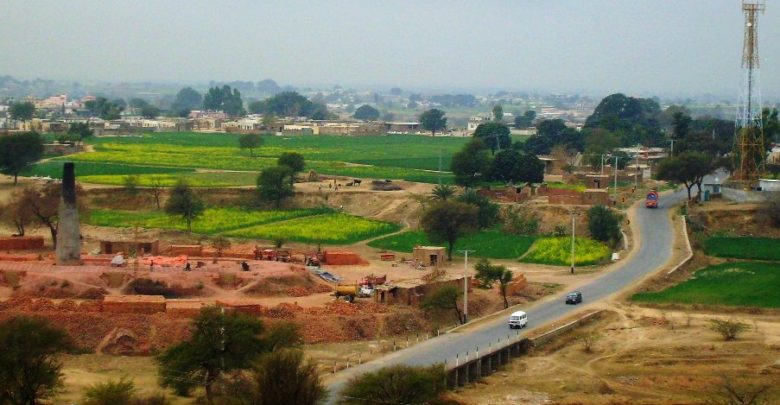 محکمہ ماحولیات نے 7 نومبر سے اگلے دو ماہ کے لیئے راولپنڈی ڈویژن کے تمام خشت بھٹہ جات کو بند کرنے کا حکمنامہ جاری کردیا
کلر سیداں:(نمائندہ پوٹھوار ڈاٹ کوم,اکرام الحق قریشی)…محکمہ ماحولیات نے 7 نومبر سے اگلے دو ماہ کے لیئے راولپنڈی ڈویژن کے تمام خشت بھٹہ جات کو بند کرنے کا حکمنامہ جاری کردیا جبکہ بھٹہ ایسوسی ایشن اور مالکان نے محکمہ ماحولیات کے نوٹیفکیشن کو مسترد کرتے ہوئے شدید احتجاج کا اعلان کیا ہے بھٹہ خشت ایسوسی ایشن راولپنڈی کے صدر چوہدری ابرار،کلرسیراں کے صدر نمبردارعبدالعزیز،صدر گوجرخان چوہدری ذوالفقار حسین،چوہدری عارف،چوہدری مطلوب،اسد عزیز،ٹھیکیدار محمود اور ٹھیکیدار پرویز بٹ نے ایک مشترکہ بیان میں سات نومبر سے بھٹے بند کرنے کے حکمنامے جو مسترد کرتے ہوئے کہا کہ کورونا کے باعث ملک بھر میں معاشی سرگرمیاں شدید متاثر ہوئی ہیں اب بھٹے بند کرنے کے نادر شاہی فرمان کا مقصد لاکھوں لوگوں کو بے روزگار کرنا اور تعمیراتی کام کو بند کر کے بے روزگاری میں اضافے اور معاشی تنزلی کے سوا کچھ بھی نہیں ہے انہوں نے کہا کہ ہمارے ہاں تعمیراتی کام پہلے ہی مہینوں بند رہ چکا ہے معاشی تسلسل کے لیئے بھٹوں کا چلتا رہنا ضروری ہے ورنہ حکومت کو لاکھوں بے روزگاروں اور غربت میں مزید اضافے کا سامنا کرنا پڑے گا انہوں نے محکمہ ماحولیات سے جاری حکم فوری واپس لینے کا مطالبہ کرتے ہوئے خبردار کیا کہ اگر ان کی درخواست پر توجہ نہ دی گئی تو وہ بھی متاثرہ ملازمین کے ہمراہ ڈی چوک اسلام آباد جا کر احتجاج پر مجبور ہو جائیں گے۔
Kallar Syedan; The Environment Department has issued an order to close all the brick kilns in Rawalpindi Division for the next two months from November 7, while the Kiln Association and the owners have rejected the notification of the Environment Department and announced a fierce protest.
In a joint statement, Chaudhry Abrar, president of Kiln Association Rawalpindi, Abdul Aziz, president of Kallar Syedan, Chaudhry Zulfiqar Hussain, president of Gujjar Khan, Chaudhry Arif, Chaudhry Matool, Asad Aziz, Thekadar Mahmood and Thekadar Pervez Butt issued a joint statement. Rejecting, they said that economic activities across the country have been severely affected due to Corona and will effect poor labourer.
A report submitted before the court in an environment related petition stated that the secretary for the environment department held a meeting with the brick-kiln owners association and it agreed to shut down the brick kilns from Nov 7 to Dec 31. The report further revealed that the chief secretary held a meeting under chairman of the judicial environment commission which was also attended by all the deputy commissioners in Punjab on video link. It said clear instruction had been given to the DCs regarding stubble burning, emission from kilns, industrial units and solid waste burning in order to curtail accumulation of smog.
کرپشن کا خاتمہ پی ٹی آئی حکومت کی اولین ترجیح ہے,صداقت علی عباسی
Eliminating corruption is the top priority of the PTI government, Sadaqat Ali Abbasi
کلر سیداں:(نمائندہ پوٹھوار ڈاٹ کوم,اکرام الحق قریشی)… پی ٹی آئی کے رکن قومی اسمبلی صداقت علی عباسی نے کہا ہے کہ کرپشن کا خاتمہ پی ٹی آئی حکومت کی اولین ترجیح ہے اور وہ کسی ادارے میں کرپشن برداشت نہیں کریں گے۔ان خیالات کا اظہار انہوں نے صدر پی ٹی آئی تحصیل کلر سیداں آصف محمود کیانی کی قیادت میں ملنے والے ایک وفد سے گفتگو کرتے ہوئے کیا۔اس موقع پرضلعی ڈپٹی جنرل سیکرٹری قمر ایازخان، یاسر منصور، راجہ محمد یونس،صدر ایم سی محسن نوید سیٹھی،نمبردار انصر محمود اورہمایوں خان کیانی بھی موجود تھے۔ملاقات میں تنظیمی امور کے علاوہ ترقیات کاموں کے حوالے سے بھی گفتگو ہوئی اور سرکاری اداروں کی کارکردگی بہتر بنانے سے متعلق تجاویز پیش کی گئیں۔اس موقع پر صداقت عباسی نے وفد کو یقین دلایا کہ انشاء اللہ پی ٹی آئی کی حکومت وزیر اعظم عمران خان کی قیادت میں عوام کی امیدوں پر پورا اترے گی، ملک میں کرپشن اور علاقہ میں پسماندگی کا خاتمہ ہماری حکومت کی ترجیحات ہیں جس پر کسی قسم کا کوئی سمجھوتہ نہیں کیا جائے گا۔انہوں نے یقین دلایا کہ میرے حلقے میں کرپٹ مافیا کیلئے کوئی گنجائش نہیں،آپ نشاندہی کریں سخت کاررووائی کی جائے گی۔اس موقع پر صدر پی ٹی آئی آصف محمود کیانی نے انہیں بتایا کہ لینڈ ریکارڈ سنٹر کلر سیداں میں تعینات کرپٹ کلرک عابد کا تبادلہ کروایا گیا تھاجس نے سیاسی اثر رسوخ استعمال کر کے اپنا تبادلہ رکوا لیا۔چند ایک پٹواریوں کی رشوت وصولی کی شکایات پر اسسٹنٹ کمشنر کلر سیداں کو ثبوتوں کیساتھ درخواستیں دی گئیں مگر ابھی تک کسی بھی پٹواری کیخلاف کوئی کارروائی عمل میں نہیں لائی جا سکی جس کی وجہ سے مقامی سطح پر پی ٹی آئی کی کارکردگی پر سوال اٹھ رہے ہیں۔
کلرسیداں کی تاجر تنظیموں نے نوجوان مرزا رضوان قتل کیس کے تمام کرداروں کو بے نقاب کرنے اور انصاف کے کٹہرے میں لانے کا مطالبہ کردیا
Kallar Syedan traders' organizations demand exposure of all characters in Mirza Rizwan murder case and brought to justice
کلر سیداں:(نمائندہ پوٹھوار ڈاٹ کوم,اکرام الحق قریشی)…کلرسیداں کی تاجر تنظیموں نے نوجوان مرزا رضوان قتل کیس کے تمام کرداروں کو بے نقاب کرنے اور انصاف کے کٹہرے میں لانے کا مطالبہ کردیا ہے تاجر رہنماؤں حاجی ریاست حسین،محمد اعجاز بٹ،شیخ حسن ریاض،راجہ ظفر محمود،زین العابدین عباس،چوہدری طارق تاج،ضہارب منہاس،راجہ ارشد محمود اور دیگر نے مطالبہ کیا کہ پولیس کلرسیداں شہر میں دن دیہاڑے نوجوان مرزا رضوان کے قتل کے تمام محرکات کا پتہ چلا کر انہیں عوام کے سامنے لائے انہوں نے کہا کہ مرزا رضوان کو کلرسیداں شہر کی تھانہ روڈ پر دن ایک بجے کے قریب نامعلوم شخص نے انتہائی قریب سے فائرنگ کر کے قتل کر دیا تھا۔
سا بق چیئر مین چو ہد ری محمد ا شر ف کی سا لانہ د عا جمعہ کے ر و ز ا ن کی ر ہا ئش گا ہ میں ا د ا کی گئی
Annual dua observed for late Ex chairman Ch M Ashraf
کلر سیداں:(نمائندہ پوٹھوار ڈاٹ کوم,اکرام الحق قریشی)… سا بق چیئر مین چو ہد ری محمد ا شر ف کی سا لانہ د عا جمعہ کے ر و ز ا ن کی ر ہا ئش گا ہ میں ا د ا کی گئی جس میں سا بق ارکان بلد یہ،شہریوں اور تاجروں نے کثیر تعداد میں شرکت کی۔ علامہ محمد اقبال قریشی نے دعا کرائی۔