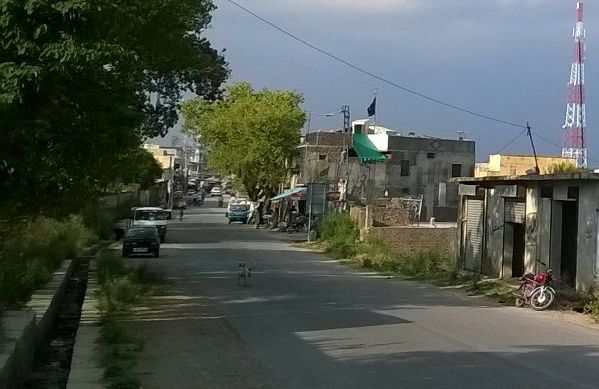 لاک ڈاؤن کی خلاف ورزیوں پر کلرسیداں،چوکپنڈوری اور شاہ باغ میں 9 کاروباری مراکز کو سربمہر کردیا
کلرسیداں (نمائندہ پوٹھوار ڈاٹ کوم ,اکرام الحق قریشی)—لاک ڈاؤن کی خلاف ورزیوں پر کلرسیداں،چوکپنڈوری اور شاہ باغ میں 9 کاروباری مراکز کو سربمہر کردیا۔چیف آفیسر بلدیہ صاحبزادہ عمران اختر نے انسپکٹر زاہد حیدری و عملہ کے ہمراہ لاک ڈاون کی خلاف ورزی کرنے پر کلر سیداں میں میاں گروپ آف چکوال، چوکپنڈوڑی میں خرم ساؤنڈ، مزمل سینٹری سٹور ہارڈوئیر، غنی ڈیکوریشن، چوہدری سپورٹس شاپ،مدینہ کلاتھ اور شاہ باغ کے مقام پر علی بوٹ ہاوس، جنید ہارڈ ویئر کو سر بمہر کر دیا چیف آفیسر بلدیہ صاحبزادہ عمران اختر نے خبردار کیا کہ تاجر حضرات کرونا ایس او پیز پر عمل درآمد کو یقینی بنائیں اور حکومتی احکامات پر عمل کریں بصورت دیگر مزید سخت کاروائی عمل میں لائی جائے گی.
Kallar Syedan; Nine business centers were sealed in Chaukpindori and Shah Bagh for violation of lockdown. Khurram Sound, Muzammil Sanitary Store Hardware, Ghani Decorating, Chaudhry Sports Shop, Ali Boat House at Madina Cloth and Shah Bagh, Junaid Hardware were sealed. Chief officer warned to ensure implementation of SOPs and comply with government orders otherwise more stringent action will be taken.
تھانہ جات میں عوام کو میرٹ اور انصاف کی فراہمی کو یقینی بنانے کیلئے ہر ممکنہ اقدامات کو یقینی بنایا جائے۔ آر پی او راولپنڈی ریجن عمران احمر
Every possible step should be taken to ensure the provision of merit and justice to the people in the police stations. RPO Rawalpindi Region Imran Ahmar
کلرسیداں (نمائندہ پوٹھوار ڈاٹ کوم ,اکرام الحق قریشی)— آر پی او راولپنڈی ریجن عمران احمر نے کہا ہے کہ پولیس کی ذمہ داری قانون کی عملداری کے ساتھ ساتھ مظلوم کو بلاتاخیر انصاف کی فراہمی ہے ان خیالات کا اظہار انہوں نے ہفتہ کے روز دورہ کلرسیداں میں کیا انہوں نے تھانے کے ریکارڈ،حوالات،رہائشی بیرکس، ڈیوٹی پر موجود ملازمان کو چیک کیا اور صفائی ستھرائی کے انتظامات کا جائز ہ لیا۔اس موقع پر انہوں نے فرنٹ ڈیسک میں ان لائن ریکارڈ کے ذریعے زیر تفتیش مقدمات و درخواست ہائے کا جائزہ لیا۔اس موقع پر ایس ڈی پی او کہوٹہ سرکل مرزا طاہر سکندراور ایس ایچ او انسپکٹر قیصر محمود ستی بھی موجود تھے اور ان کی کارکردگی کو سراہا۔آر پی او عمران احمر نے اس موقع پر گفتگو کرتے ہوئے کہا کہ تھانہ کلچر میں مثبت تبدیلی اور سروس ڈلیوری کے معیار کو جدید ٹیکنالوجی کے موثر استعمال کے ذریعے معیار کو بہتر بناتے ہوئے مقدمات کی تفتیش میں میرٹ اور شفافیت کو برقرار رکھنے کیلئے خصوصی اقدامات کئے جا رہے ہیں تا کہ عوام کی شکایات اور ان کے حل میں بہتری لائے جا سکے۔انہوں نے ایس ڈی پی او کہوٹہ کو ہدایت جاری کی کہ وہ مختلف اوقات میں تھانوں کے سرپرائیز دورے کر کے پولیس کی کارکردگی کو جانچیں اور ہر ممکنہ طریقہ سے سروس ڈیلیوری کے معیار کو بہتر بنانے میں اپنا کردار ادا کریں۔آر پی او نے اس موقع پرعوام الناس کو فراہم کی جانے والی سہولیات کا بھی جائزہ لیا اور ہدایت جاری کی کہ تھانہ جات میں عوام کو میرٹ اور انصاف کی فراہمی کو یقینی بنانے کیلئے ہر ممکنہ اقدامات کو یقینی بنایا جائے۔
یونین کونسل چوآ خالصہ کے موضع چلو میرگالہ میں گرنٹ لگنے سے کمسن بچہ جاں بحق
Child electrocuted in village Chilo Mirgala, Choa Khalsa
کلرسیداں (نمائندہ پوٹھوار ڈاٹ کوم ,اکرام الحق قریشی)—یونین کونسل چوآ خالصہ کے موضع چلو میرگالہ میں گرنٹ لگنے سے کمسن بچہ جاں بحق ہو گیا۔صوفی عباس بٹ کا ڈیڑھ سالہ برس کا اکلوتا بیٹا جو اپنے باپ کے ساتھ چارپائی پر لیٹا ہوا تھا چارپائی سے نیچے اترتے ہوئے اس کا پاؤں شارٹ پنکھے سے جا لگا۔اسے بے ہوشی کی حالت میں نجی ہسپتال لے جایا گیا مگر وہ راستے میں ہی دم توڑ گیا۔