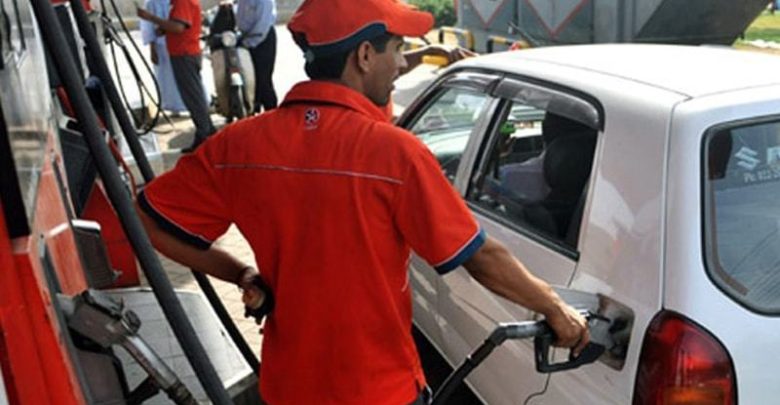 حکومت نے ماہ اگست کے لیے پٹرولیم مصنوعات کی قیمتوں میں اضافہ کر دیا
گوجرخان (نمائندہ پوٹھوار ڈاٹ کوم)—حکومت نے ماہ اگست کے لیے پٹرولیم مصنوعات کی قیمتوں میں اضافہ کر دیا۔پٹرول کی قیمت میں 3روپے 86 روپے فی لٹر ، ہائی اسپیڈ ڈیزل 5 روپے فی لٹر ، مٹی کا تیل 5 روپے 97 پیسے فی لٹر اور لائیٹ سپیڈ ڈیزل کی قیمت میں 6 روپے 62 پیسے فی لٹر اضافہ کیا گیا۔پٹرول کی نئی قیمت 100روپے 11 پیسے فی لٹر سے بڑھ کر 103 روپے 97 پیسے فی لٹر ہوگئی۔ہائی سپیڈ ڈیزل کی نئی قیمت101روپے 46 پیسے فی لٹر سے بڑھ کر 106روپے46پیسے فی لٹر ، مٹی کے تیل کی نئی قیمت 59 روپے 32 پیسے فی لٹر سے بڑھ کر 65روپے29پیسے فی لٹر اور لائیٹ سپیڈ ڈیزل کی قیمت 56روپے 24 پیسے سے بڑھ کر62روپے 86پیسے فی لٹر مقرر کی گئی ہے۔نئی قیمتوں کا اطلاق یکم اگست سے ہوگیا ہے وزارت خزانہ کے مطابق پیٹرولیم مصنوعات کی قیمتوں میں اضافہ عالمی مارکیٹ میں تیل کی قیمتوں میں اضافے کے تناظر میں کیا گیا ہے ۔
Gujar Khan; The government on Friday raised the prices of petroleum products by up to Rs6.62 to share the impact of rising international prices with the consumers.
The price of petrol (motor spirit) has been increased by Rs3.86 to Rs103.97 per litre from the existing Rs100.11, according to a Finance Division press release.
The price of high-speed diesel (HSD) has been pushed to Rs106.46 per litre from the current price of Rs101.46, a rise of Rs5.
The new price of kerosene oil (SKO) will be Rs65.29, a jump of Rs5.97 over the existing Rs59.32.
Meanwhile, the price of light diesel oil (LDO) has been hiked by Rs6.62 to Rs62.86, from the current Rs56.24 per litre. The decision to revise the fuel prices upwards was taken "in view of the rising oil prices trend in the global market", the brief statement issued by the Finance Division said. The new prices are effective from August 1 (today), the first day of Eidul Azha.